What is a reinforced bed?
A reinforced bed is exactly what it says it is. They are strengthened at key points on the bed frame or divan base to create a heavy duty bed. They are strong beds that are robust and you don't have to be a big person to have one. Afterall there are some fantastic stylish beds in the range which are extremely popular with our customers and they benefit from knowing that they have bought a one of our strongest beds.
Heavy duty bed frames
There is big choice of heavy duty bed frames from with some very stylish options. Gone are the days when all beds for heavy people had a rather institutional look to them and you had to seriously pay for the privilege. Now you can have a strong bed that won't break the bank that looks great. We have a range of wrought iron bed frames, fabric beds, metal beds, wooden beds and reinforced divan bases is wide range of sizes and finishes.
Wrought iron bed frames
Our wrought iron bed frames are particularly strong beds and have been tested and certified that they are suitable for an individual user weight of 40 stone (254kg) or a total weight limit based on 2 people of 65 stone (412kg). They are really good beds for heavy people. Each bed has a strong fully welded mesh base which benefits from additional support from cross bars. The base is strong enough that it doesn't require central supporting legs. Available in black and ivory, the range of wrought iron bed frames can be finished in the colour of your choice at an additional cost, allowing you to have a truly fashionable reinforced bed. And if you need an extra long bed, all sizes can be made 6'6", 6'9" and 7'0" in length for a 20% surcharge. They are not indestructible bed frames, but we think they are the closest you'll get. All these reinforced beds are made to order with free delivery to you within 10-14 working days.
Fabric Beds
A stylish fabric bed can really make a statement in your bedroom. And now there is a great range of fashionable fabric beds for heavy people. These Birlea beds are suitable for people weighing up to 300kg / 47 stone on a double bed frame, 400kg / 63 stone on a king size fabric bed frame and 450 kg / 70 stone on a super king size bed frame. They are extremely comfortable as the reinforced bases have sprung slats. From traditional to contemporary there is a great choice of fabric beds for heavy people, with prices starting at £229. If it's a fabric bed you're after, you won't be disappointed as not only are they strong beds, there's a good collection of designs and fabrics to choose from.
Metal Beds
Our strongest beds with metal frames are tested to hold 300kgs in weight, which is 47 stones. They have a strong mesh base which is attached to reinforced contract grade side rails. You might be thinking that a bed of this quality wouldn't be a cheap bed. Well, you'll be amazed at the prices. Our strong single beds start at £159 and our strong double beds start at £199. And what's more is most of these reinforced beds can be delivered to you free of charge on a 2-5 day service.
Wooden Beds
Our oak reinforced beds are tested to hold 300kgs in weight, which is 47 stones. The have a steel frame attached to the solid oak side rails. The base has additional support provided by 4 cross bars. Due to their strength, the metal centre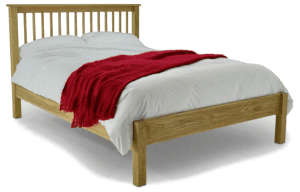 frame has no need for central support legs. Sprung wooden slats are fitted to the frame to give additional comfort. The sturdy frames are constructed with dovetail joints. Dovetail joints are extremely strong and will not be parted easily. These double and king size bed frames are available in 3 styles, with high and low foot ends. All are available with 2-5 day free delivery.
Reinforced Divan Bases
Our reinforced divan bases are strengthened at the corners using hardwood. The top rails are double thickness giving extra support. The beauty of these divan bases is they can be a totally bespoke item. We can have these reinforced divan bases made to whatever height, width and length you require, within reason. It's why our strongest bases are Hypnos reinforced divan bases or Relyon reinforced divan bases, 2 of the biggest names in the bed industry. If you require further information on non-standard sizes please contact us and we will be pleased to help you.
Best mattresses for heavy people
If you need a heavy duty mattress for your reinforced bed, we have some great options that are exclusive to Big Brand Beds. All are suitable for use by an individual weighing up to 25 stone / 160kgs and have a 40 stone / 255kgs limit for 2 people sharing.
They are a collection of extra firm mattresses that are guaranteed for 1 year. Using heavy gauge wire and reinforced sides, these are a really good mattress for heavy people.
We also stock Dunlopillo mattresses which are our most resilient range of mattresses as they are a 100% pure latex mattress. However they are not recommended for the above weights.
Before you leave, if you found this article helpful would you mind sharing to your social media profiles. Thank you
(All prices correct at the time of publication, but subject to change)
Related articles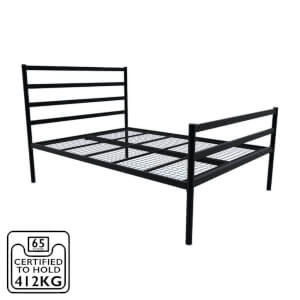 Learn about our heavy duty bed frames and mattresses for heavy people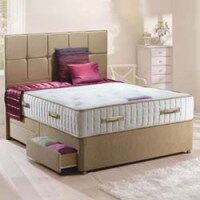 Big Brand Beds have beds that cater for the bigger person. We have a range of divan beds suitable for heavy people. Many of our suppliers make strong beds as standard, whilst others can make them specially to order.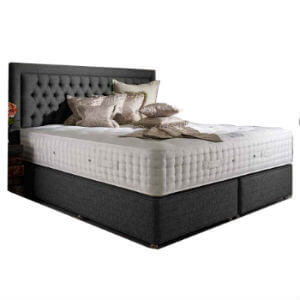 As people get bigger Big Brand Beds are often asked for beds and mattresses for heavy people. These are not necessarily big beds, but ones suitable for bigger individuals.