Vokins Family History
The Vokins family started trading in Brighton in 1882, the business being founded by the current Managing Directors Great Grandfather.
In later years the department store in North Street, Brighton was re-branded and became known as The Vokins Store. Big Brand Beds was the name given to the e-commerce division of vokins@home, which had previously traded at several locations in Sussex as Vokins Linens & Beds Superstores.
William Henry Vokins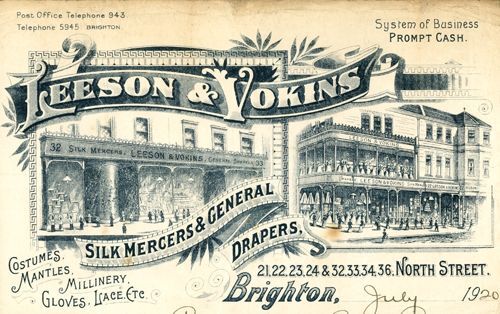 Born in Leafield, Oxfordshire in 1861, William Henry Vokins left the family home of 200 years for the bright lights of London.
After working as a shop assistant in Peter Robinsons, the famous London store, William Henry Vokins and his friend Mr W. T. Leeson moved to Brighton in 1882 and opened a drapery shop at 33 North Street. Trading as Leeson & Vokins.
The move to Brighton came as a result of advice given by his physician that the sea air would be beneficial to his health.
Initially he travelled from Brighton to London several times a week to buy stock from the wholesalers. So impressed was the wholesaler with William that he offered him a line credit which enabled him to buy more stock whilst having to visit London less frequently.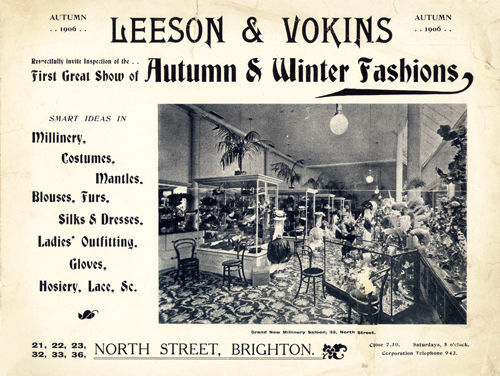 The business prospered and expanded, but, in 1925 the partnership was dissolved. William Henry Vokins retained the original premises, which continued to trade in Brighton until 1997. He was still active in the business well into his 80's, working alongside his 2 sons, Howard and Gerald.
Howards two sons, John and Trevor joined the business. John was a merchant specialising in silks and dress fabrics. He went on to open specialist fabric shops in Burgess Hill, Seaford and Worthing. Trevor joined the family having qualified as an accountant.
Geralds son Anthony was yet another merchant and became the Joint Managing Director with Trevor and ultimately the Chief Executive. During there time at the helm, Vokins opened linen and bed specialist branches in Blatchington Road, Hove and Ash Lane, Rustington and a 24,000sq ft bed and furniture store in Sackville Road, Hove. They both worked in the North Street store until its closure in 1997.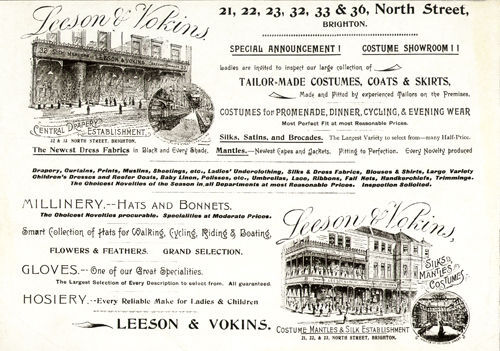 The branches in Hove and Rustington changed name to vokins@home. Vokins remains independently owned and is an active member of AIS (Associated Independent Stores), the largest independent, non food-buying organisation in the UK. Membership ensures that we can compete with the big high street names, by offering a wide selection of merchandise at the most competitive prices.
Our continued combination of great value and first class service has brought us resounding success along the South Coast.
Through our website we aim to extend our level of service and customer loyalty by offering guidance for new purchases, improved product selection, together with advice on caring for your investment.
Vokins now trade from their showroom at Keymer Road, Burgess Hill, West Sussex, RH15 0AD under the name of Big Brand Beds. But don't worry, we still offer the same great service and value.