John Atkinson Blanket Review. Lambswool & Cashmere Blanket
John Atkinson manufacture England's finest blankets. Their bed blankets are used in the homes of Royalty across the globe and provide the the perfect traditional finishing touch to any bed.
This week our John Atkinson blanket review is the lambswool and cashmere blanket.
Introducing the luxurious John Atkinson lambswool and cashmere blanket. Woven from pure lambswool and cashmere, this blanket is carefully crafted in Great Britain with a century-old technique. Designed to last a lifetime, its heavenly softness and comforting drape will have you reaching out for it at the end of every bedtime. Because of its natural warmth, this blanket will provide warmth when the temperature drops or additional comfort during the spring months. It will also come in handy during that in-between period, keeping you snug until winter's back on its way.
This blend of lambswool and cashmere is very soft to touch. You can really feel the cashmere that is combined with the lambswool. It's the mix of 15% cashmere and 85% lambswool that gives this blanket a much softer feel than a 100% lambswool blanket. It drapes beautifully and doesn't take long for you to feel the benefit of its insulation properties.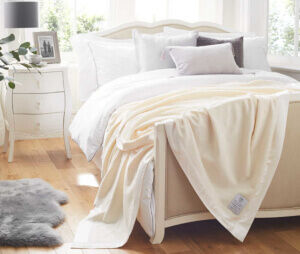 Because of the density of a pure cashmere blanket, this blended 'lambcash' blanket is the lighter of the two. I can imagine this lambswool blanket blended with cashmere would be an ideal blanket for those warmer summer nights. However I believe 2 blankets would be needed for most people during the winter months.
Wool has exceptional properties that enable it to absorb moisture whilst maintaining a dry exterior. This means that there is an area of dry air between the blanket and the skin which affords extremely good temperature regulation.
John Atkinsons lambswool and cashmere blankets are generously cut to allow plenty of tuck on standard UK beds.
single lambswool & cashmere blanket 180cm x 230cm.
double lambswool & cashmere blanket is 230cm x 255cm.
king size lambswool & cashmere blanket is 255cm x 280cm.
super king size lambswool & cashmere blanket is 255cm x 305cm.
This extremely light and soft blanket is available in white or champagne and is hand finished in colour co-ordinating satin binding on all sides.
Big Brand Beds John Atkinson blanket review
Not far from the luxury of a pure cashmere blanket. It won't break the bank but feels great. This is an excellent high quality light weight summer blanket.
Before you leave, if you found this article helpful would you mind sharing to your social media profiles. Thank you