John Atkinson Blanket Review The Atkincel Cellular Blanket
John Atkinson manufacture England's finest blankets. Their bed blankets are used in the homes of Royalty across the globe and provide the the perfect traditional finishing touch to any bed.
This week our John Atkinson blanket review is the Atkincel Cellular blanket.
A wool blanket provides the heat-retention and moisture-wicking properties of wool with a soft, luxurious feel as well as many other benefits. Our wool blankets are made from 100% high-quality wool. When you sleep under one of these blankets, your body will thank you for it.
Before writing our review on the John Atkinson Atkincel cellular blanket we ought to ask:
What is a cellular blanket?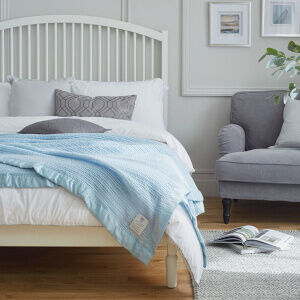 Simply put, cellular blankets are woven with lots of holes in them. The holes in a cellular blanket allow air to freely flow into and through the fibres. The air then heats up with the warmth from your body. They provide great insulation and warmth, but importantly the holes provide breathability.
What are the benefits of a wool cellular blanket?
Wool is the only fibre that regulates temperature.
Wool fibres are hollow, naturally wicking moisture away from the skin.
Wool fibres are anti-microbial and naturally resist odours.
Wool is naturally flame retardant and self extinguishing.
Wool fibres are elastic and bounce back to their original shape.
Wool fibres are more durable than other fibres.
Wool is naturally anti-static, keeping static electricity away from the skin.
Wool can be dyed in a wide range of colours.
The Atkincel cellular blanket is our best selling blanket. This is down to its price and versatility. At 300gms (grams per square metre) this is not a heavy blanket. It has a very different feel to a solid wool blanket with the honeycomb texture making it extremely tactile.
When this cellular blanket is draped around or over you, you quickly sense a change in temperature. However, it is a subtle change and not overpowering. If you feel you are over heating, which is highly unlikely, a gentle flick of the blanket quickly replaces the warm air trapped next to your body allowing your body temperature to regulate. It's easy to understand why cellular blankets are the go to blanket for use with young children and babies. Wool is a fibre that helps you to stay warm when it's cold and cools you when it's warm. It is also extremely eco friendly as it is natural, renewable and biodegradable. There really aren't any downsides to this pure wool cellular blanket.
What are the sizes of a John Atkinson cellular blanket?
single atkincel cellular blanket 180cm x 230cm.
double atkincel cellular blanket is 230cm x 255cm.
king size atkincel cellular blanket is 255cm x 280cm.
super king size atkincel cellular blanket is 255cm x 305cm.
This extremely light and warm blanket is available in white, champagne, Alaskan blue and powder pink. They are bound all round with colour co-ordinating satin binding.
Big Brand Beds John Atkinson blanket review
This is our most popular cellular blanket. The softness of this blanket will make you want to sleep at night and stay in bed all day. The woven cellular structure and weight of the Atkincel blanket makes it a perfect choice for all seasons. Without doubt one of the best cellular blankets available.
Before you leave, if you found this article helpful would you mind sharing to your social media profiles. Thank you