John Atkinson Blanket Review The Cashmere Blanket
John Atkinson manufacture England's finest blankets. Their bed blankets are used in the homes of Royalty across the globe and provide the the perfect traditional finishing touch to any bed.
This week our John Atkinson blanket review is The cashmere blanket.
The ultimate softest blanket in the universe. This is the Rolls Royce of all blankets. This is literally the most comfortable blanket in the universe. Its softness and warmth can not be described in words. You have to feel it for yourself.
This luxurious bed blanket is made from 100% cashmere and it is truly delightful to handle. Unlike some wool blankets, there is no itchiness when handling a cashmere blanket. It is so soft and drapes perfectly. This is because cashmere is woven from the fibres brushed from the delicate under belly wool of a cashmere goat to give a beautiful fine texture. Cashmere blankets easily make the list of one of the most expensive bedding items your are ever likely to buy. We are talking about luxury blankets that cost upwards of £1500. They really are the ultimate winter protection.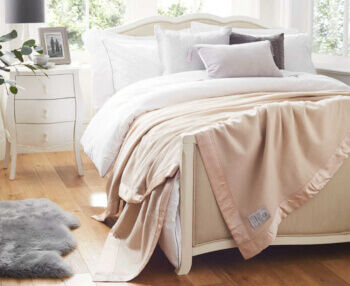 It's obvious from draping this cashmere blanket over my bare arm that it is going to keep you very warm, without being heavy. It really is a light blanket, but so cosy. It's definitely light enough for year-round use and this is another benefit of cashmere. The ultra-fine fibres have strong insulating properties which are necessary as the cashmere goats generally live in areas of China and Mongolia that have widely fluctuating temperatures throughout the year. These blankets are extremely soft, warm and very lightweight. The blankets are very breathable and help regulate body temperature for extreme comfort.
John Atkinsons pure cashmere blankets are generously cut to allow plenty of tuck on standard UK beds.
single cashmere blanket 180cm x 255cm.
double cashmere blanket is 230cm x 255cm.
king size cashmere blanket is 255cm x 280cm.
super king size cashmere blanket is 255cm x 305cm.
This light and super soft blanket is available in white or champagne and is finished in colour coordinating satin or silk binding.
Big Brand Beds John Atkinson blanket review
These pure cashmere blankets are probably the finest blankets that are manufactured in the UK. I have fallen in love with this blanket. It is likely to be he most comfortable blanket you'll ever sleep under. The only problem I can foresee is that once you have owned a cashmere blanket, there is no going back to any other blanket.
Before you leave, if you found this article helpful would you mind sharing to your social media profiles. Thank you
Related articles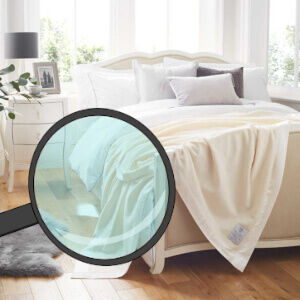 This week we're reviewing the: John Atkinson lambswool and cashmere blanket. Not far from the luxury of a pure cashmere blanket. It won't break the bank but feels great. This is an excellent high quality light weight summer blanket.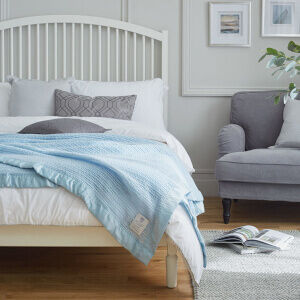 This week we're reviewing the: John Atkinson Atkincel Cellular blanket. The woven cellular structure of the Atkincel blanket makes it a perfect choice for use all year round. Without doubt one of the best cellular blankets available.