Our new Hypnos Orthocare 8 Super Kingsize Drawer Divan Bed

We have just taken delivery of our new Hypnos Orthocare 8 super king size drawer divan and mattress. We opted for an open coil firm edge base with a firm mattress. The base is upholstered in Panama Green. The bed is finished with complimentary Hypnos Emily headboard, also upholstered in Panama Green.
The assembly of the bed was very straight forward. A north south (head to toe) split base is joined together with 2 joining bars. These fit on the castors, one at the top end of the bed and one at the bottom. Each half of the base has 6 castors which are screwed into place and tightened with a spanner that comes with the bed.
The headboard bolts were easily fitted into the back of the divan base. As the bed is a super king size 6ft model the headboard comes with 4 solid struts.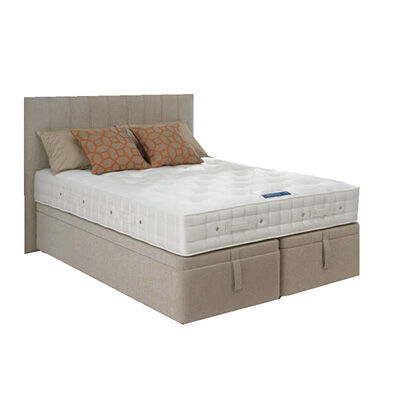 Although fairly heavy, the mattress was easy enough to manoeuvre into position. In less than an hour I had single handedly set the bed up ready for dressing with the new bedlinen.
The bed was made with a mattress protector, a must for all new beds, a Belledorm 200 thread count 100% Egyptian cotton fitted sheet and finished with a Vantona duvet cover set. All we had to do was wait 10 hours or so before we could try the bed properly.
The verdict after the first night and in fact the first week is this bed gets a big 'thumbs up'!
My wife is 9 stone and I am close to 18 stone. We've both enjoyed wonderful sleep, without feeling each other moving around. A lovely firm, without being hard feel gives a most comfortable night's sleep. We would certainly recommend the Hypnos Orthocare 8 divan and mattress to anyone wanting a firm bed. If you want more information, give Stephen a call on 01273 857388.
Watch out for our report on the Hypnos Orthocare 10, which we bought for our daughter recently.