Hypnos Trio Guest Bed. The Perfect 2 in 1 Guest Bed Solution

It's always nice to have guests to stay – even when it's the mother-in-law! But if you don't have the space for a spare double bed it can lead to some awkward sleeping arrangements.
We've all been there, sleeping on the couch with the family cat pawing your head at 2am because you had to give up your own bedroom. It's not ideal. Then there's the awkward mornings when your guests get up before you and find you on the couch in your embarrassing PJs. Nobody wants that to happen! You see, space is at a premium in our homes these days and not everyone has enough for a proper guest bed in their spare room.
But what if you owned a magical single bed that converted into both single beds and a king size bed? Wouldn't it be great if someone invented such a bed? Well what if we told you that such a bed exists and is available to buy right now!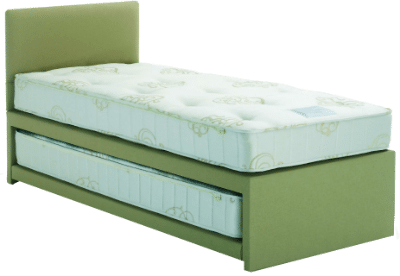 The Hypnos Trio Guest Bed with pocket sprung mattresses is our best-selling guest bed for a reason – it's really nifty. What appears to be a simple single bed actually converts into a super king size bed by pulling out the second mattress in the base. The mattresses zip together to create one big bed. Alternatively you have 2 full sized single beds for your guests to sleep on. The second mattress is extremely easy to pull out due to the under bed being on castors. It will only take a couple of minutes for you to pull out the mattress and click the spring-assisted metal legs into place.
This means that when you have guests to stay you won't be stuck on the couch nor do you have to sacrifice your entire spare room to a big bed. And if a 3ft single bed that converts into a 6ft super king size bed is just a little too big for your room, worry not. The clever at Hypnos also manufacture the Trio bed as a 2'6" small single that becomes a 5ft king size.
Now you might think that such an amazing bed must have a downside, perhaps it's really ugly looking? Not in the slightest. The modern design of the Hypnos Trio Guest bed makes it a welcome addition to a bedroom. Its upholstered design is highly sought after, and this bed even comes in 45 upholstery options. This means that you can really customise your new guest bed to your décor. There is even the option of buying a matching headboard to really finish your new bed off.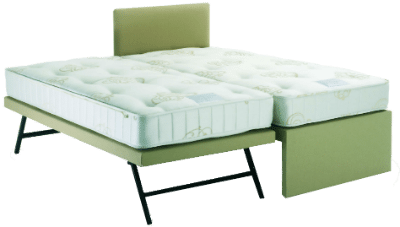 Okay, so the design is gorgeous too so it must be the mattress that's awful? Wrong again. The Hypnos Trio Guest Bed comes with a luxury 1000 pocket sprung mattress too. Exceptionally comfy, this pocket sprung mattress offers amazing support to the sleeper. It's also really responsive to your body during the night so that when you move your new mattress will shift to provide you support.
This mattress is upholstered with layers of cotton and soft white fibres and is finished with Belgium damask mattress ticking that gives a gloriously smooth and silky finish to your mattress. If pocket sprung mattresses aren't for you, don't worry. The Trio also come with open coil sprung mattresses.
Indeed, there are only positives associated with the Hypnos Trio Guest Bed. Not only will it save you time and space but it will also save you the back pain of having to sleep on the couch. Your only trouble will be getting your guests to leave after they've slept in your incredibly comfy bed.