Hypnos Seasons Turn Mattresses & Beds

---

As summer approaches and we look forward to some warmer weather, it's a good time to take a look at the Hypnos Seasons Turn collection of beds and mattresses. The Larkspur, Magnolia and Wisteria are all beds with mattresses that are upholstered with temperature in mind. One side is filled with warmer fillings suitable for cooler winter nights whilst the other side is filled with cooler materials.
A luxurious layer of wool awaits you during the cooler winter and autumn months. Come the warmer weather, flip the mattress and enjoy the comfort of sumptuous cooling cotton.
The Seasons Turn collection, like other Hypnos mattresses features the ReActive spring system. The more active turns in the spring the greater its ability to react to the support and comfort the sleeper requires..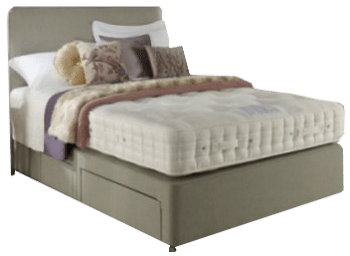 The Magnolia mattress has the ReActive 6 spring system and is upholstered with wool and cotton. A step up takes you to the Larkspur which has the ReActive 7 spring system and benefits from layers of cashmere, silk, wool and cotton. The top of the range Wisteria Seasons Turn mattress (pictured) features the ReActive 8 pocket spring system. Luxurious layers of alpaca, bamboo, wool and cotton will ensure the perfect temperature controlled sleeping environment.
All Hypnos beds have great storage solutions including multiple drawer options, Ottoman storage and their own unique hideaway divan base. Once you've selected your perfect combination, there are over 40 fabrics available to have your divan base upholstered in. Then of course you can add the perfect finishing touch. Complement your bed with a beautiful Hypnos headboard, which can be upholstered in a matching or coordinating fabric.
Within the Hypnos headboard range there are 12 designs to choose from. Most of these are available as a floor standing option and a standard strutted headboard.
The great news now is that all Hypnos beds and mattresses come with a 10 year guarantee. This is a great reason to buy a top quality product made buy a leading British manufacturer.
For expert advice call us on 01273 857388.
Come and visit our bed shop near me (that's you of course) to try out the range of Hypnos beds and mattresses in our showroom in Burgess Hill, West Sussex. Click here to get directions to our bed shop on Google maps