Hypnos Orthos Elite Wool Bed & Mattress
The supportive Hypnos Orthos Elite Wool mattress features their unique ReActive 7-turn pocket spring system.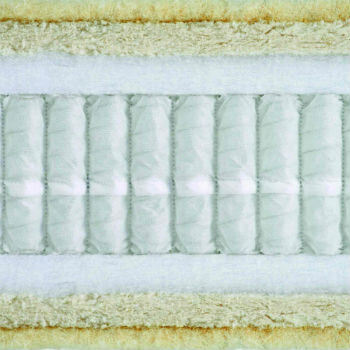 Each spring in a Hypnos mattress identifies your body shape and weight to afford complete body and spinal support. To ensure you choose the perfect mattress for yourself, the Orthos Wool Elite mattress is available in a Firm or Extra Firm comfort level.
The springs are covered with plentiful breathable layers of the finest natural fibres. In this case, wool and cotton.
The 2 rows of genuine hand side-stitching and hand tufting hold the generous layers of upholstery in place, whilst providing additional edge-to edge support.
The mattress is covered with a cocona infused Belgium damask to provide a hygienic, fresh and soft surface to sleep on. Cocona, which is made from coconut husks enhances the mattress fabric by helping to absorb body odours.
Each and every luxury Hypnos mattress is bespoke to you and is painstakingly hand made to bring you the ultimate comfort. They believe 'You'll never have a more comfortable and beautiful bed than a Hypnos bed.'
The Orthos Elite Wool mattress is normally paired with a platform top divan. Within the platform top range are several options:
Deep divan
Shallow divan on legs
Hideaway
The deep divan has further finishing touches which include a great choice of storage drawers and a hidden safe option. To finish there is a great range of fabrics to upholster your base in.
To create a stunning showpiece in your bedroom, complete your bed with a matching headboard. There's plenty of choice. With strutted bed fix headboards or the elegant euro slim headboards, which are floor standing at 132cm high, there's a headboard to compliment your décor.
A luxurious Hypnos pillow is the finishing touch to ensure the perfect night's sleep on your new Hypnos bed. And don't forget that all Hypnos beds and mattresses come with a full 10 year guarantee.
Before you leave, if you found this article helpful would you mind sharing to your social media profiles. Thank you