Hypnos Orthocare 10 – Could this Bed Help Sell Your Home?
Okay, so you're trying to sell your home, the last thing you want to think about is a new bed. You're stressed enough as it is! But what if this bed – the Hypnos New Orthocare 10 bed – was the reason that people wanted to buy your home?
Now you probably, or definitely, think we're crazy now. Yet it's true, a new bed could really inspire someone to buy your home. You see, when you're trying to sell a home you have to do a lot of staging. Indeed, property investors insist that with a properly staged home you could sell your house both quicker and for money than a non-staged home.
So what constitutes a staged home?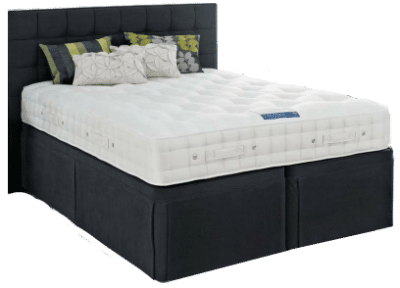 Well it's more than just putting a few vases around your home and ensuring there is the welcoming aroma of freshly baked bread or brewed coffee. Essentially, staging your home makes buyers envisage themselves living there. Ideally, this means that you want to remove clutter and personal belongings from around your home. Think no photographs or too many kitsch items. You might love your collection of tall, wooden giraffes, however, anything too personal like that will make it hard for viewers to imagine themselves in your home.
One of the most important, and hardest, rooms to stage is the bedrooms within your home. The bedroom is the room that we spend the most time in, so a buyer will only want to buy a home with a bedroom that they adore. A bedroom with an old bed and saggy mattress is certainly not going to pull the heartstrings of potential buyers.
Instead you should invest in a new bed and mattress to really improve the look of your bedroom. Now, you might be unwilling to be spending money so close to a house move, but it really is a clever idea. Then there's the fact that this one invest could actually earn you a nice return on your sale. Plus, you'll be able to bring your brand new bed to your new home.
An ideal bed for your staging investment is the Hypnos New Orthocare 10. Not only will this bed make an instant impression to anyone entering your room, it's also an extremely good bed that will last you years into the future. There's even reinforced, spacious drawers for you to hide all your extra clutter from potential buyers.
The divan itself is available in a wide range of colours so you can really customise your bed to your own tastes – although keep in mind that too bright a colour might scare off viewers which would make your investment a waste of money.
Hypnos beds can really be customise. With a great choice of upholstery, including a tailored valance finish and multiple leg options it will be the centrepiece of any bedroom. Crown your head with a matching headboard. The Hypnos designer headboard collection includes traditional strutted headboards, euro floor standing headboards and the ultimate winged headboards.
As well as your bed, make sure that the rest of your bedroom furniture is looking its best. Broken drawers or chipped paint will not impress. If you don't want to buy a new furniture set at least give ageing furniture a lick of paint and fix any breaks.
And just think, while you would have spent nights lying awake stressing about selling your home in your old bed, in your new Hypnos New Orthocare 10 bed you'll be far too comfy to do anything other than get an amazing night's sleep.