Hypnos Introduce 24 New Upholstery Fabrics
Hypnos have just introduced 24 new upholstery fabrics to their range. The palettes are well thought out and in keeping with current trends.
Hypnos recognise that every individual has personal preferences in terms of colour, style and design. They have developed a range of upholstery fabrics that work in harmony with headboards and divans that can be tailored to match or complement the furnishings in your bedroom. The choice is varied; jacquard woven fabric, stylish tactile faux suede or faux leather. For the perfect stylish finish, upholster your divan with the same fabric as your headboard.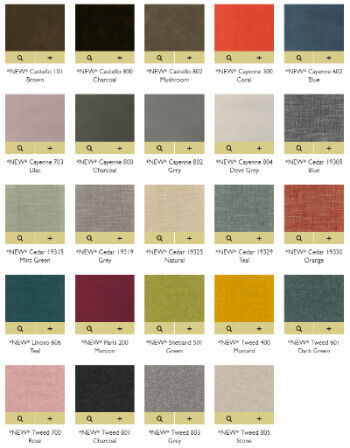 Within the new additions are 3 premium ranges comprising 15 colour choices:-
They have also added a teal colourway to the popular Linoso range, along with a collection of fashionable tweeds.
Consider all of the design options available to you.
Divan Base Styles
Shallow divan base on legs
Deep divan base
Deep divan base with Storage
Deep divan with drawers
Super Storage Ottoman divan base
Hideaway divan base
Headboard Styles
Strutted bed fix headboard
Euro Slim floor standing headboard
Euro wide floor standing headboard
Winged headboard
View the fabric collection online at Big Brand Beds or at our showroom at Keymer Road, Burgess Hill, West Sussex, RH15 0AD. If you're still struggling, follow the link to Hypnos beds and select the samples you would like sent to you.They will allow up to 8 fabrics measuring 90mm x 120mm.
All Hypnos fabrics are suitable for Hypnos' range of upholstered divan base styles and headboard styles. And for complete peace of mind all headboards supplied for domestic use comply with BS5852 (cigarette & match test), low hazard, and domestic divan bases comply with BS7177 (fire test), low hazard. If you have a requirement for contract use, please contact us.