Folding Beds, Guest Beds or Z Beds. Jay-Be Covers them all

What is a Z Bed? Years ago, guest beds were often referred to as Z beds. This was because they folded in 3 in the shape of a Z. They tended to be on the small size and more like a glorified deck chair or sun bed.
These days, very few people come into our bed shops and ask for a Z bed. What's interesting is that Z bed is a term that has been optimised for Google searches. It's incredible how many companies use it in their meta titles and descriptions. It's also still in the dictionary 'an occasional bed that folds in the shape of a Z'. That said, all the z beds for sale these days fold in 2, but the name has stuck with a few people.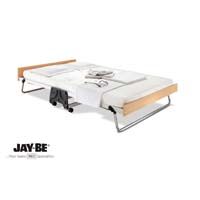 They are now generally referred to as guest beds or folding beds. At Big Brand Beds, we sell the very best, Jay-Be z beds. The brand was launched in the 1980's, although the company's manufacturing roots good back to 1879. They have become established as the leading manufacturer of z beds in the UK. With all the research and development into bed frame and mattress technology that they carry out, they are now so confident of their products that the z bed frames are guaranteed for life. That's not a bad guarantee when you consider that prices start at around £100.
Jay-Be offer the widest choice of z beds from the light weight, slim single z bed with an airflow fibre mattress, that stands upright and can be easily stored to a high quality, luxurious double z bed, the J-Bed Memory Foam (pictured right). With a lightweight anodised aluminium frame and memory foam mattress this is one of the best z beds available. Some z beds are recommended for occassional use, but the J-Beds and Crown range are suitable for regular use.
The beauty of the entire Jay-Be range is they are all suitable z beds for adults, not just children and can be delivered to most parts of the UK free of charge within 24-48 hours.
Buy our Jay-Be folding beds online and be prepared for that unexpected guest.
Original 26.8.2014
Updated 23.4.21