All you need to know about Dunlopillo Mattresses & Beds
If you're thinking of buying a Dunlopillo latex mattress or bed, this is a must read. All you will ever need to know about Dunlopillo mattresses and beds.

When shopping for a mattress, the most obvious factors to consider are the price, the comfort and the style. But there is so much more to think about, such as the structure, the materials and the durability. It can be hard to know what to look for when considering these factors, especially if you have never purchased a mattress before. Our informative guide below will tell you everything you need to know about a Dunlopillo mattress and the matching divan bases.
The Signature Collection of Dunlopillo Mattresses
Dunlopillo is a strong and iconic global brand with tremendous consumer loyalty. These easy care mattresses are very resilient. The latex is produced from ethically sourced rubber trees from sustainable forests
Diamond Dunlopillo Mattress
18cm of 100% pure latex for a medium support
Firmrest Dunlopillo Mattress
18cm of 100% pure latex for a firmer support

Royal Sovereign Dunlopillo Mattress
21cm of 100% pure latex for a medium support
Celeste Dunlopillo Mattress
21cm of 100% pure latex for a firmer support

Millennium Dunlopillo Mattress
24cm of 100% pure latex for a medium support
Orchid Dunlopillo Mattress
24cm of 100% pure latex for a firmer support

Sizes
All Dunlopillo mattresses are available in the following standard sizes. There are no options for special sizes to be made or zipped mattresses.
75cm x 200cm (Small Single Adjustable), 90cm x 190cm (Single), 90cm x 200cm (Single Adjustable), 120cm x 190cm (Small Double), 135cm x 190cm (Double), 150cm x 200cm (King size) and 180cm x 200cm (Super king size).
Covers
Dunlopillo offer two mattress covers. The standard cover is a zipped stretch knit mattress covers contain ActiPro™ which contains natural probiotic microflora. This helps provide an anti-bacterial, anti-odour and anti-allergenic sleeping surface. If you are prone to waking up in the middle of the night because you're too hot, Dunlopillo have introduced the Plus cover which is made from a highly conductive fabric that promises to help you stay cool all night long. The advanced technology behind the Plus mattress cover ensures a comfortable temperature all night long.
What is latex?
Dunlopillo latex is a wonderful material derived from the sap of rubber trees grown in managed sustainable plantations around the world. The trees are not harmed in the extraction of the sap. Latex naturally contains anti-allergenic, anti-bacterial and anti-microbial properties. Dunlopillo's manufacturing process ensures that all these features are retained in the finished mattress. Do not confuse a latex mattress with a memory foam mattress. A Dunlopillo latex mattress is 7 times more breathable than a memory foam mattress. It provides 33% more pressure relief than memory foam and has twice the elasticity of memory foam.
The Manufacturing Process
Take the sap of a rubber tree. 100% pure latex is an inexhaustible raw material. One tree produces 27mls of latex a day. On this basis it would take nearly 17 months to collect enough latex to produce one single Dunlopillo mattress
The sap is then mixed with soap, accelerant and air. Proper mixing of the ingredients ensures the quality of the product and is the beginning of the process.
Once mixed the mixture is sprayed in to a mould which is lined with pins. These help the core bake evenly and determine the comfort zones.
The latex core is then baked to give durability.
The core is removed from the mould and thoroughly washed to remove the soap residue.
It is then left to dry.
Benefits
The Dunlopillo process of producing a Dunlopillo latex mattress is 4.8 times more energy efficient and environmentally friendly than the now fairly limited talalay process. It also allows for complete one-piece zonal cores to be made for all sizes.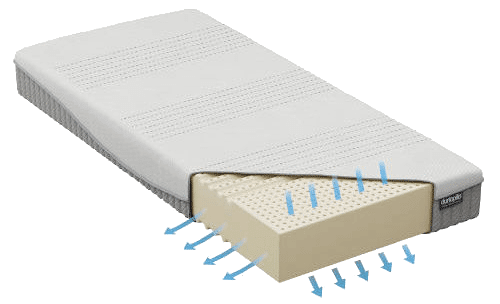 Each Dunlopillo mattress core is made to a unique Latex specification and has an open cell structure which promotes constant air circulation and works in harmony with the sleeper. Body movement whilst using helps ventilate the mattress.
Dunlopillo 100% pure latex mattress cores also have added horizontal ventilation.
Excellent elasticity and point elasticity. There is no sink or bounce, thus providing the ultimate comfort.
Excellent energy absorption. Latex is highly resilient and returns almost immediately to its equilibrium position.
The 7-zone core ensure the correct support is given to your body, which adapts to maintain the spinal column neutral and provides excellent pressure distribution. The smaller pin holes in the mattress provide for firmer zones and the larger pin holes are softer zones. This is due to there being less latex.
Each mattress is extremely flexible and durable which provides progressive comfort when increased pressure is applied at the point of contact.
Very durable and total elimination of noise.
No roll together.
All cores are hypoallergenic, anti-fungal and dust mite free.
All cores are fully compliant with UK Fire Retardant regulations.
Easy care. No turn and even no rotation of the mattress is required due to its resilience.
The mattresses do not have any issues with point loading and will fully recover.
Settlement issues are reduced as a core will only loose around 2% of its overall height during its lifetime.
Mattresses and beds are guaranteed for 8 years
Dunlopillo Divan Options
Adjustable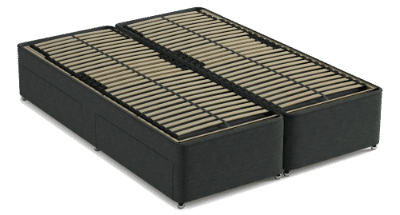 The adjustable Dunlopillo divan base comes with a wireless remote control that even feature a torch light. In the case of a king size or super king size bed you will receive 2 remote controls. The sprung birch wooden slats can be adjusted in the lumbar region to give a softer or firmer feel. As with the standard Dunlopillo bases, drawers are available on all sizes. The bases including silver castors are 41.5cm high. A super king size can be ordered with a similar size slatted divan base (90cm x 200cm) to create a super king size mix and match adjustable/slatted divan set.
Sprung Slatted
The sprung slatted base uses sprung birch slats that can be adjusted for optimum comfort in the lumbar region. Using a slatted base allows air to circulate freely beneath the mattress. This enhances the natural breathable characteristics of latex. The storage drawers which are available on all sizes in several combinations are made from solid wood and have dovetail joints. The runners provide a super smooth glide. The sprung slatted base is 41.5cm high, which includes silver castors. The Dunlopillo sprung slatted base provides a slightly firmer feel to the mattress than the firm edge pocket divan base. All double Dunlopillo sprung slatted divan bases and larger are split north to south only.
Firm Edge Pocket
The firm edge pocket sprung base is manufactured using sustainable timber. The pocket springs sit inside the timber construction, providing a softer feel to the mattress whilst having a firm supportive edge to the bed. The supportive edge prevents roll off. In the case of ordering one-piece mattresses, the firm edge base is constructed with a drop middle. This prevents a ridge, or the sensation of a ridge running down the middle of the bed. If two mattresses are to be used on a king size or super king size base the firm edge will run around the perimeter of both base sections. Solid timber storage drawers are available on all sizes of this 41.5cm high base. The Dunlopillo firm edge pocket divan base provides a slightly softer feel to the mattress than the sprung slatted divan base. All double Dunlopillo firm edge pocket divan bases and larger are split north to south only.
Drawer Sizes
The standard drawer is 783mm wide x 525mm deep x 150mm high and has a weight capacity of 25kgs. The smaller continental drawer is 405mm wide x 525mm deep x 150mm high
Ottoman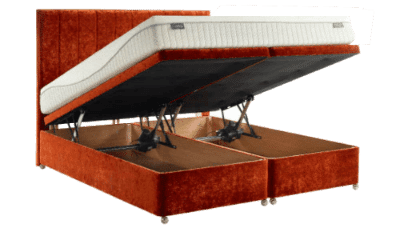 An ottoman bed is a storage bed that opens up to reveal a storage area underneath. Ottomans are a great space-saving feature that can be installed in any room of the house, but are often used in the bedroom as a way of adding extra storage. The Dunlopillo ottoman divan is a solid topped base with ventilations holes that allow the air to circulate around the mattress. At 41.5cm high the ottoman bases are only available in 90cm x 200cm (Single Adjustable), 135cm x 190cm (Double), 150cm x 200cm (King size) and 180cm x 200cm (Super king size).
It should be noted that unless a platform top base has ventilation holes, they are not recommended or indeed suitable for pure latex mattresses as they need to breathe.
Dunlopillo Headboards
The headboard is the focal point of any bedroom and that's why choosing a headboard is a very important and personal decision. You can express yourself through your choice of headboard. There are 7 headboards in the Dunlopillo range that can all be upholstered to match any of their bases. A matching Dunlopillo headboard creates stylish centre piece to your room. Browse through the Dunlopillo fabric library to see what we have to offer, and start dreaming up your new bed.
Dunlopillo Upholstery
There are plenty of great fabrics to upholster your Dunlopillo base or headboard in. These high-quality fabrics will help you create a bedroom that is tailored to your exact requirements.
Dunlopillo Product information
Further information can be found on the indivual product pages and on our Dunlopillo product information page
Dunlopillo Sleep Science
Dunlopillo Sleep Science has enabled us to create a range of pure latex mattresses which are the perfect foundation to a restful and relaxing sleep, with 7 Comfort zones. Learn more from this informative video.
Before you leave, if you found this article helpful would you mind sharing to your social media profiles. Thank you
Updated 3.8.21