Dunlopillo Mattress Review The Dunlopillo Den
The Dunlopillo Den mattress is one of three new Dunlopillo hybrid mattresses. If you like a Dunlopillo mattress, but need it quickly then these might be the answer. There's an express delivery service which means if you order your Dunlopillo Den mattress before 10.30am you will receive delivery on the next working day.
A good night's sleep is one of the best ways to elevate your mood. You can't properly relax and sleep well if you're not comfortable. If you're not getting a good night's rest, your entire life will be affected. When you feel good, you have more energy and feel better about yourself. You'll be more productive at work and have a better attitude. That's why it's so important to purchase a mattress that's comfortable and supportive.
This week our Dunlopillo mattress review is the Den.
It seems a long time ago that we tried these mattresses at the launch show and hope they feel as good as they did then.
We have a single size Dunlopillo Den mattress on a timber slatted bed frame in our bed shop.
What's inside the Dunlopillo Den Mattress?
This no turn single sided Dunlopillo Den mattress comprises:
A 25mm layer of breathable, responsive pressure relieving latex
1090 pocket springs provide all the support you need in a king size mattress
Foam encapsulated to provide edge to edge support
Information on all the fillings can be found on our Dunlopillo bed & mattress product information page.

Dunlopillo Den mattress finishing touches:
High quality soft touch mattress cover
The Dunlopillo Den mattress has a medium comfort level
Please note that although there is a zip on the bottom of the mattress, the cover should not be removed or washed. The zip was only for use during manufacturing to put the cover on.

The mattress is delivered vacuum packed and rolled up. It takes minutes to carefully open the mattress and let it plump up, but is best left for a couple of hours before using it. This allows it to fill out out reach its full size.
I am immediately taken with the look of the mattress, a contemporary style, with a cover that looks similar to Dunlopillo's Signature range of latex mattresses and a striking green label.
As I sit on the mattress the side holds up really well. The foam encapsulation is doing it's job. The mattress feels supportive and holds my weight without any problems.
Moving onto my back I feel that this mattress is very supportive and on the firm side of medium. It's extremely comfortable for someone of my size (6'4" and 17 stone). The voids in my back and supported by the layer of latex. Moving is easy and once on my side I can feel the comfort of the latex on my key pressure points, namely my shoulders, hips and feet. I'm slightly surprised that lying on my front doesn't feel too bad, I thought the mattress would be too firm for someone of my size in that position. I don't immediately think its uncomfortable or a position I wouldn't want to sleep in on this mattress. With the great support I felt whilst lying on my back I expected it to be too firm for front sleeping, but it seems ok.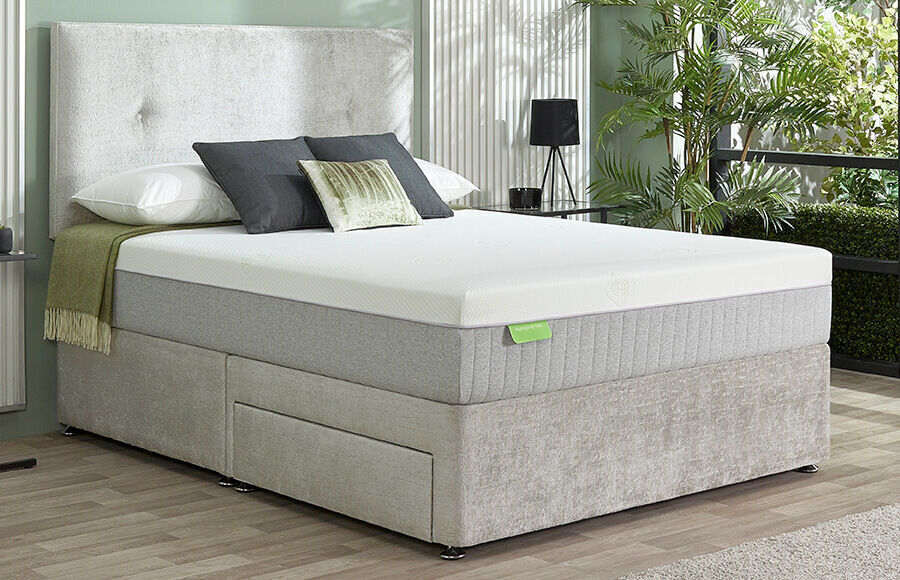 Which Dunlopillo divan base should I pair the Den mattress with?
The beauty of this mattress, unlike a 100% latex mattress is that it is at home on any divan base or bed frame. That said, we would always recommend, where possible using a base made by the same manufacturer. This is especially helpful, if in the unlikely event there is ever a need to make a claim on the guarantee. It just means there is no grey area as to where the fault lies and which manufacturer takes responsibility.
For a gentler feel choose a Dunlopillo sprung divan base
Dunlopillo firm edge pocket divan base
For a slightly firmer more supportive feel choose a Dunlopillo sprung timber divan base
Dunlopillo sprung timber divan base
Dunlopillo sprung timber electric adjustable divan base
All Dunlopillo divan bases have the option of storage drawers. There are 2 drawers on a single bed and the choice of 2, 4 or 2+2 continental drawers on a double bed or bigger. All Dunlopillo's drawers are made using solid hardwood components and dovetail joints for additional strength. Once you've matched your mattress with your chosen base, it's time to think about the finishing touch, a headboard. Headboards can really complete and sometimes transform a bedroom. A coordinating Dunlopillo headboard will help you create a stylish and comfortable space. Choose from a huge selection of fabric and variety of colours to suit your bedroom scheme
For an even firmer more supportive feel choose any of the following
Platform top divan base
Bed frame with solid wooden slats
Bed frame frame with a mesh base
Dunlopillo ottoman base
As there are 3 choices of mattress in the Dunlopillo hybrid range you might ask:
What is the difference between the Dunlopillo hybrid mattresses?
To make your search for the perfect Dunlopillo mattress easier, we've put together this handy comparison of the three king size mattresses in the hybrid collection. You'll find information on their materials, features, and prices so you can make the right choice.
Dunlopillo

Den Mattress

Dunlopillo

Lair Mattress

Dunlopillo

Pad Mattress

Turnable

No turn mattress
No turn mattress
No turn mattress

Spring Count

Type

1090

pocket spring

1190

pocket spring

1390

pocket spring

Mattress

Type

Foam

encapsulated

Foam

encapsulated

Foam

encapsulated

Natural

Fillings

25mm Latex
50mm Latex
75mm Latex

Comfort level 1-9

(9 being the firmest)

Comfort on a Dunlopillo

Sprung divan base

6
5
4.5

Comfort on a Dunlopillo

Platform top divan base

7
6
5.5

Mattress

Cover

100% Polyester

Knitted Cover

100% Polyester

Knitted Cover

100% Polyester

Knitted Cover

Flag stitched Handles

No
No
No

Air Vents

No
No
No

Tufts

No
No
No

Recylable

100% Recyclable
100% Recyclable
100% Recyclable

Guarantee

5 years
5 years
5 years
Big Brand Beds Dunlopillo mattress review
The Dunlopillo Den mattress is good option for people of above average stature, as it is supportive without being hard. The latex layer cushions the pressure points on your body well. We are sure that the new Dunlopillo hybrid mattress range will be a great success. If you're looking for more information, read our Dunlopillo hybrid mattress buying guide.
Before you leave, if you found this article helpful would you mind sharing to your social media profiles. Thank you