Why a Dunlopillo Mattress is Perfect for a Great Sleep

If you were offered dinner cooked by Gordon Ramsay or say your husband, who would you choose? Likelihood is, unless you're married to someone like Tom Kerridge, you're going to want to choose dinner made by Ramsay. It's not that you're husband isn't a good cook (maybe), but you just know that Gordon Ramsay will make you something truly spectacular.
It's the same when it comes to buying a mattress. Sure, other brands are comfy and nice, but there is nothing quite like the night's sleep that you get from a Dunlopillo latex mattress. That's because Dunlopillo, as one of the most recognised bed brands worldwide, are thought of as a leading authority on high-quality latex mattresses. Think of it like this, if they were a chef then they might just be competing with Ramsay for Michelin stars!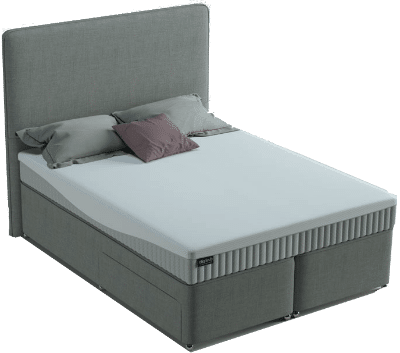 So what makes Dunlopillo latex mattresses so special? Well it's the fact that these mattresses are designed and made to give the user an exceptional night's sleep for years to come due to their long lasting performance.
The latex itself is naturally produced from the sap of rubber trees. Grown around the world in sustainable plantations, each rubber tree will produce around 27ml of latex daily. In fact, for a single mattress to be produced from just one tree you would need to wait 500 days to have enough latex.
Naturally sourced latex has several advantages including anti-bacterial, anti-microbial and anti-allergenic qualities. Dunlopillo's unique and innovative production methods mean that all these qualities go straight into your mattress! Particularly good for allergy or asthma sufferers, these qualities can help alleviate symptoms and can help prevent things like dust mites.
Natural latex mattresses are also famed for having no smells. Due to their natural materials, they contain less volatile chemicals that can cause smells whereas some other mattress types can give off chemical gas smells
But that's not the only advantage to using a latex mattress. They have lots of pro-points, which make them an essential investment.
Firstly, a latex mattress can be incredibly comfortable – especially for people who suffer from back or neck pain. This is because they relieve pressure points on your body giving it exceptional support and providing proper alignment. This will not only help with those who suffer pain already but can also prevent pain in the future.
As well as providing support, your Dunlopillo latex mattress also provides motion isolation so that if your partner moves a lot in their sleep you are less likely to be disturbed. Other mattresses, such as open coil spring units, don't have this luxury meaning that every time your partner shuffles you'll likely be woken up. Something that will end up in a few arguments – Dunlopillo might just save you a nasty divorce!!
Dunlopillo's natural latex mattresses are also known for their longevity meaning that a little investment now means that yours could last years longer than other brands or types. Indeed, they are so exceptional that you'll wonder why you didn't invest in one sooner. Just ask our Managing Director.