What is Geltex in Mattresses? Sealy & Silentnight use it
When it comes to choosing a new mattress it's easy to feel overwhelmed. All this technology and choice – you would think you were investing in your own spaceship. Well, indeed, some mattresses are actually designed by NASA…
Some people just buy any mattress they see without any research hoping to avoid the confusion of all the different types out there. But this isn't a good idea! Think about it, you spend 6-8 hours a night on your mattress, which adds up to about a third of our lives in bed. Plus it should last around 7-10 years with good care. That's longer than a lot of people will own a car. Now you wouldn't buy the first car you came across in a dealership would you? Of course not!
Instead it's important to understand the mattress technologies that are available on the market. By doing so you'll be able to find a perfect mattress to suit your individual needs and get yourself a wonderful night's sleep.
So where do you start? Well one brilliant range of mattresses available on the market is the Sealy Geltex collection, but what's so good about it?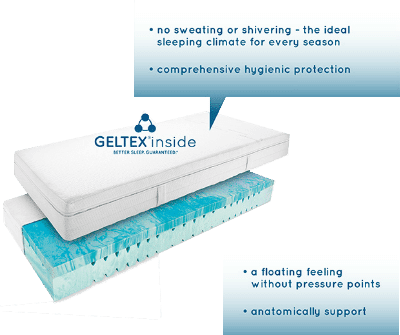 Sealy Geltex technology combines air-permeable foam with elastic gel to create an incredibly comfy mattress that eliminates painful pressure points when sleeping.
There are two mattresses that people often choose that can cause pain – ones that are too soft and ones which are too hard. Mattresses which are overly soft don't support the user who is sleeping in them. This leads to people suffering from lower back pain as their mattress is not aligning the spine naturally.
However, on the other hand, that doesn't mean you should go for a very firm mattress either. A firm mattress can also cause pain and discomfort in people – particularly if you sleep on your side. This can cause pain in the hips and shoulders of those who sleep on their side due to the harsh pressure points. What you really need is something in the middle.
The Sealy Geltex mattress uses the combination of foam, air and gel to help prevent the pressure which causes in pain in over-firm mattresses but without making it too soft. The Geltex offers support to your back through its elasticity which creates a natural support for your spine and ensures alignment as you sleep. This combination takes the benefits of both a firm and soft mattress and eliminates all the disadvantages allowing you to get a good quality, pain-free sleep.
But there's even more of an advantage to Sealy Geltex – especially for people who find themselves too warm or cold at night. Geltex has been developed to allow breathability within your mattress to prevent you becoming too warm or cold during sleep as the circulation allows temperature regulation. You'll be nice and cosy in winter but kept cool in winter! Sounds pretty good, doesn't it? When your temperature is regulated at night you'll find your sleep improves as you won't get woken up from being too warm or cold.
So what Geltex products are available?
Well at Sealy both the Sealy Hybrid Collection and the AIS Dreamworld and Exclusive range contain Geltex technology in a number of different styles and comforts. There are choices of medium/firm and medium/gentle which are especially designed for those who like a slightly softer or firmer mattress.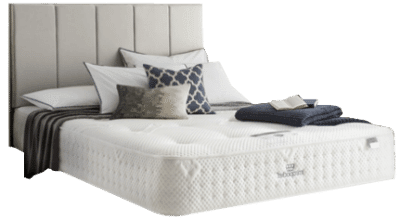 2800 Pocket Geltex Avola
Hybrid synergy Gold
Hybrid Synergy Platinum
Hybrid Silver Pocket 1400
Hybrid Gold Pocket 2000
Hybrid Platinum Pocket 2800
Hybrid Crown Pocket 3600
Hybrid Crown Pocket 4200
People who require extra temperature regulation at night should look at the Sealy Hybrid collection for Sealy Adaptive technology. This will further regulate your temperature to ensure a comfortable night's sleep. Allergy sufferers aren't left out either. The Sealy Hybrid collection uses smart fibre technology that will help to reduce the symptoms of dust mite allergies.
Silentnight have also invested in Geltex technology. Following the success of the synergy range, they have just launched a new improved collection of 3 beds, the Mirapocket 1000 Geltex Ruby, Mirapocket 1400 Geltex Garnet and the Mirapocket 2000 Geltex Topaz (Discontinued). To prove how confident they are of this product, they are offering a 60 night trial for a limited period. Conditions apply.
So if Geltex is for you, look no further than bigbrandbeds.co.uk