Vokins sponsor Sussex County Cricket Club Gala Lunch
vokins@home, the specialist bed, mattress, bedding, linens, duvets, pillow and furniture retailer are delighted to be sponsoring the Sussex County Cricket Club Gala Celebration Lunch at the Corn Exchange, Brighton on Friday 26 March 2004.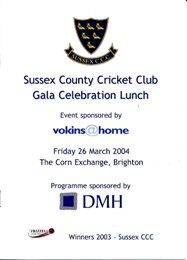 Welcome to the Sussex County Cricket Club's Celebration Lunch. We have all waited a long time for this occasion, but the glorious summer of 2003 saw Chris Adams and his team achieve what a great number of those present this lunchtime tried for so long to do......they won the Frizzell County Championship.
This is a celebration sponsored by vokins@home and everyone here today congratulates the team on the marvellous performance last season. But we are also here in a nostalgic mood as the Club welcomes nearly one hundred past Sussex players. A great number of those played in the Sussex teams that came so close, but did not quite make it.
When Murray Goodwin pulled a short delivery to the mid-wicket boundary just after lunch on Thursday 18th September 2003, the most remarkable event in the history of Sussex County Cricket had occurred: Sussex had won the County Championship for the first time and to add icing to the cake, Murray Goodwin broke Sussex's individual batting record with his 335 not out, beating Duleep's 333 set at Hove in 1930.
Congratulations were received from all around the world, including:
Imran Khan - "I am delighted with the news. Since I am so actively involved in politics I never get to know what's happening in international cricket, although occasionally I get to talk to John Barclay, who was our captain. Congratulations on the first ever title which when I played was so elusive."
Tony Greig – "Congratulations to all at Sussex. I am proudly wearing my Sussex cufflinks and tie on this great day."
David Sheppard – "I send warmest congratulations to Sussex on their great achievement in winning the Championship. It was wonderful to follow their fortunes each day. 2003 saw a very competitive Sussex but also a Sussex that enjoyed the game. Chris Adams told me "It's been great fun!" That is great – that first-class cricketers can play to win and it can be fun too."
David Gilbert – "Congratulations of a truly memorable and historic achievement. Enjoy the celebrations!"
David English – "Congratulations from the Bunburys to the team and the brilliant Sussex CCC staff!"
Can it get any better? vokins@home hope so!