Ottoman Bed Base Pull Handle Update
You might be aware of a recent story in the press involving a child getting caught in the pull handle of an ottoman storage base.
Big Brand Beds take this matter extremely seriously and have received the following reassurances from our suppliers.
Hypnos Ottoman Super Storage Bases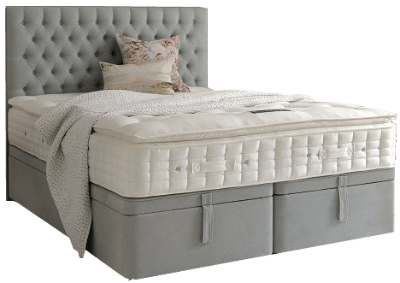 Hypnos has conducted a full review of our own pull handle on our ottoman-style Super Storage divan base (pictured above). We can confirm the handle loop size complies with BS 8509:2008, with the loop size drastically smaller than that featured in the news story, plus the pull handle has the extra benefit of a 'locking press-stud'.
If you do find customers querying this issue, please reassure them of our compliance, handling and locking feature. Should you have any further questions please get in touch with your Hypnos Area Sales Manager or our customer services team.
Birlea Ottoman Beds
Following recent articles in the media, we would like to let you know that here at Birlea we have been working hard to determine what is expected to change in the industry regarding the safety standards for pull straps on furniture.

The industry will be adopting the EN71 requirement which means that any loop must not have a perimeter of more than 360 mm or a free length of 220 mm.

This regulation will apply to our Berlin Ottoman, Berlin Fabric Ottoman and Brooklyn Fabric Ottoman bed frames. Our Phoenix Ottoman frame can be excluded as this is operated with a small metal handle.

Our Brooklyn Fabric Ottoman strap has a twin loop so the main loop is the focus point and measures at 130 mm, which is below the 220 mm threshold for free lengths.

The Berlin Ottoman and Berlin Fabric Ottoman frames are operated with a single loop strap tied onto the metal frame of the bed. The loop currently exceeds the 220 mm free length threshold, but our factory are altering this immediately for all future batches. Please note that although we do have stock of the current style loop in our warehouse, trading standards have advised that these beds are perfectly fine to use. Please rest assured that all future batches will comply with these new regulations and the new strap will have a triple loop with a length of less than 100 mm.

All of our ottoman frames also feature warning labels advising that they are only to be operated by adults and children and pets are to stay out of the storage area.
Sleepeezee Belgravia Ottoman Divan Base
The Sleepeezee loop handle is much smaller than the one featured in the article. It is just about big enough for an adult hand to fit through.
Relyon Ottoman Storage base
Relyon ottoman bases do not have loop handles. There is a small cut away section in the base to enable ease of lifting.
We will update our site as and when we receive further communication from our suppliers.