Hypnos Beds, the Calcutta Cup & Princess Anne
The obvious question is how do Hypnos beds, the Calcutta Cup and Princess Anne tie in together? The Calcutta Cup and Princess Anne are an obvious link as she has been a Patron of the SRU for 30 years and a committed supporter of Scottish rugby.
The Hypnos bed connection comes as we were lucky enough to travel from Sussex to Murrayfield at the weekend to watch the game. It's a bit of a long journey for a day trip so we booked into a Holiday Inn. To my surprise the bed was extremely comfortable and a good nights sleep was had. The morning after the game I couldn't resist peeking at the mattress and to my delight, saw a Hypnos label. The mattress was on a shallow sprung edge base on legs and looked stylish in the bedroom.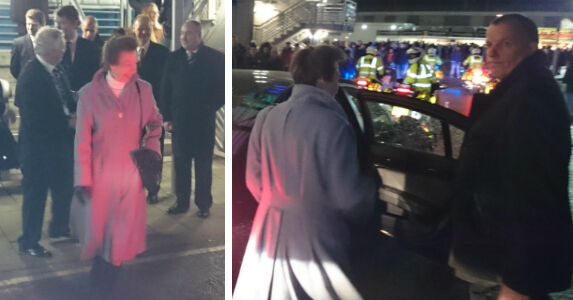 But why choose Princess Anne as the other connection, when there are so many others, including the high profile players. Well after the game we came out and walked straight into the Royal party. Too good an opportunity to miss, I took a couple of photos. As you can see from the look on her detectives face, I was getting close, perhaps a little too close for his liking.
So there you have it, Hypnos, the only active bed supplier to the Royal Family and Princess Anne Patron of the Scottish Rugby Union. It all ties together perfectly.
So if you want to sleep like Royalty and enjoy a great night look no further than our range of Hypnos beds and mattresses. Call our team on 01273 857388 for expert advice or come and see our range at 6 Keymer Road, Burgess Hill, West Sussex, RH15 0AD.
Come and visit our bed shop near me (that's you of course) to try out the range of Hypnos beds and mattresses in our showroom in Burgess Hill, West Sussex. Click here to get directions to our bed shop on Google maps