Healthbeds - Why Healthbeds Beds are so Popular?
I don't know whether people have become more health conscious when buying a new bed or mattress, but our sales of the Healthbeds Hypo allergenic ranges have increased dramatically this year.
Healthbeds are a long established family business, like ourselves. They manufacture a great collection of hypo allergenic mattresses, that are fit for a king. Well future king as Prince William had a Healthbed custom made for his home at Kensington Palace.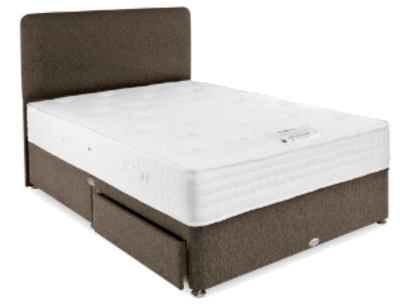 The obvious benefits of a Healthbed are that all the fillings and covers used are non allergic. Every part of the mattress is built using non allergenic materials ensuring the owner will enjoy the best possible sleep.
Pictured right is our best selling Healthbeds Memory Med 1400 divan and mattress.
There is no compromise on quality and Healthbeds have all the usual divan options with the full range of storage. Along with a platform top base which gives added support to the mattress they make their own unique interior sprung base. This is similar to firm edge base. The base has a timber frame surround with springs set in between and flush with it. This differs from a sprung edge base which has a layer of springs sat directly on top of a platform top base.
To enjoy and allergy free nights sleep view the Healthbeds beds and mattress ranges online at Big Brand Beds.