Fifty Shades of Grey - Bring a bit of Grey into your Bedroom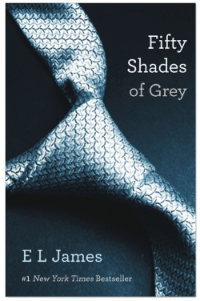 It can't have escaped your notice that there's been a bit of fuss about a movie that's just come out. The eagerly anticipated Fifty Shades of Grey hits our screens this month, with Jamie Dornan and Dakota Johnson bringing to life the books that sparked hundreds of thousands of women (and men) to take "bedtime reading" to a whole new level.
As DIY stores and Fire Brigades (yes, you did hear us right) ramp up for more enquiries this weekend, with the former buying in more stock of cable ties and masking tape – and the latter ready and waiting to answer emergency calls to get those who take their 50 Shades experiences a little too far, we'd like to think we have the perfect way to bring a bit of grey into your bedroom this month, without any pain involved!
Grey, as a colour is meant to signify many things, such as compromise, and whether it's fighting over the covers, or what to watch on the TV, we could all do with a bit of that in the bedroom. It's also a colour that goes with pretty much everything, so you can add a few daringly coloured accents around the room if you wish, such as red throws, pillows or lamps.
At Big Brand Beds, we have a fantastic selection of 50 shades of grey and silver beds for your comfort and enjoyment, and here we describe just a few that might tickle your fancy!
The Birlea Bordeaux Bedstead
Like Christian Grey's bed in his master bedroom, the Birlea Bordeaux is a luxuriously upholstered deep buttoned bed frame. This contemporary style sleigh bed frame with cushioning detail to the headboard and footboard will add a touch of romance to any bedroom.
The Birlea Castello Bed Frame
This sumptuous bed, reminiscent of the upholstery of a chaise lounge (those who've read the book will know why we refer to that!) is superbly upholstered to provide the ultimate in comfort and luxury. Romantic and opulent, the Birlea Castello will take pride of place in any bedroom. Good enough for Mr. Grey himself!
The Birlea Georgina Bedstead
Elegant and stylish, this is a well built bed frame with a nickel finish and crystal-encrusted finials. The Birlea Georgina has the benfit of sprung slats for additional comfort. Team it with a Slumberland mattress for a comfortable and cosy night's sleep.
Hypnos Divan Beds
Whether you're reading in bed, wanting to relax in ultimate comfort, or playing out your favourite 50 Shades fantasy, the Hypnos divan beds come in various shades of grey. You can opt for an upholstered Grey Hypnos strutted headboard as the perfect finishing touch.
Slumberland Divan Beds
Slumberland divan beds also come in various shades of grey. Choose from light grey, cloud or stone upholstery and look no further than the Silver Seal Deluxe Divan to take advantage of the comfort of 1600 pocket sprung mattress that will make you feel like you're sleeping on air.
Stuart Jones Mozart & Vivaldi Bedsteads
These beautifully finished deep buttoned Chesterfield style bedsteads can be upholstered in a wide range of fabrics. They would grace any movie set. Add a Hypnos Pillow Top mattress and you really will feel like film star.
So if you're looking for something in 50 shades of grey, why not visit our online store to see what we can do for you!