Dunlopillo Named Best Pillow Brand 2017 by Which?
Dunlopillo are known for being a leading manufacturer of latex mattresses, which use all-natural latex and have environmental friendly fillings. Yet, Dunlopillo are just as famous for their pillow making too. Indeed, this innovative company have just been awarded the prestigious Which? Best Pillow Brand 2017.
Based on member ratings, Which? survey over 5000 of their members every year in order to find their favourite and most trusted brands on the market. From the survey, scores were then put against various pillow and mattress brands based on categories like comfort, how likely they would be to recommend a brand and how overall satisfied members were with a brand.
The Dunlopillo Super Comfort and Serenity Deluxe Pillows from their signature collection came out on top, winning this year's Best Pillow Brand. Which? members gave the pillows an impressive overall score of 77% and even gained five out of five stars in both the categories for "matched product description" and "comfort".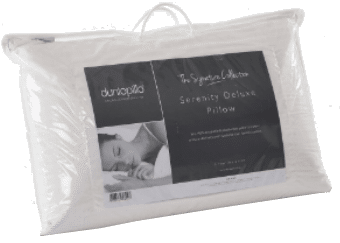 On gaining the accolade, Dunlopillo brand director David Wescomb said: Our Signature Collection pillows have anti-allergenic properties and are the blueprint for comfort, support and durability – the perfect combination for a good night's sleep. We're extremely proud to be named Best Pillow Brand 2017 by trustworthy Which? members. It gives customers that extra confidence they're investing in a top-quality pillow from a top-rated brand."
But what should consumers look for when they're buying pillows?
Well, first off, the type of pillow you buy should be based on the position you sleep in during the night:
If you sleep on your back, you should aim for medium thickness in a pillow. A pillow that is too thin or soft will have your neck sinking into the mattress, so you need a firmness to keep your head in a comfortable position. Similarly, you don't want a pillow that is too thick, as your head will be too elevated.
Stomach sleepers benefit from a soft, slightly flat pillow that will keep your neck in line with your spine.
For side sleepers, you will need a thick and firm pillow, as this will give you the best support.
Once you discovered your optimal thickness, you need to consider what filling you want in your pillows as this will affect both the cost and comfort of your pillows. The main types of pillow filler:
Down or Feather & Down Pillow
Thought of as a highly luxurious pillow, these pillows use the inner plumage of ducks or geese to create an incredibly comfortable pillow. Incredibly long lasting, these pillows are quite firm, making them particularly suitable to side sleepers. There are also synthetic options for those who don't want to use an animal product for ethical reasons.
Latex Pillows
Made from the sap of rubber trees, latex pillows are resilient and elastic, making them a popular choice. Particularly good for allergy sufferers, latex pillows are mould resistant and are also cooler than other traditional pillows. Dunlopillo use latex in their pillows, and with the brand winning awards from places like Which? it's likely that latex pillows are going to become extremely popular in the near future.
Memory Foam
Memory foam pillows offer incredible support to your neck and head as your body will contour into your pillow. They are also long lasting, making them a good investment over cheaper pillows. Keep in mind though, if you're a restless sleeper, then these pillows will seem more uncomfortable, as it takes a while for the material to mould to your head.
Once you've decided on your pillow material, it's simply about researching the brands that are most trusted. The Which? brand guide is the perfect place to start and if you think latex is the material for you, Dunlopillo is one of the best on the market.
The Dunlopillo Serenity and Super Comfort pillows are only available instore.