Dunlopillo Beds & Mattress Update 2017
As a major stockist of Dunlopillo beds and mattresses for over 30 years we are excited at the number of new initiatives they will be launching at the AIS Bed Show this September.
Dunlopillo remain the leading authority and manufacturer of latex mattresses and pillows, with the popular Signature Collection continuing to sell extremely well. They're delighted the Royal Sovereign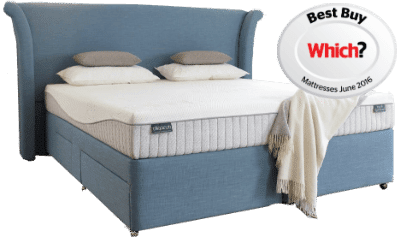 mattress retained its Which? Best Buy Award this year – so we will be distributing updated POS to ensure we make the most of the effect of the Which? Best Buy award in store, and continue to promote sales on this highly successful model.
Focus at the show this year will be on a new premium option for the Signature Mattress Collection, with the launch of a new innovative Dunlopillo 'Cool' Mattress Cover option. This new, premium, cooler touch fabric will enhance the Dunlopillo sleeping environment with additional cooling properties for those customers who prefer a cool mattress at night. These mattresses will be sold under the Dunlopillo Signature Plus Mattress Collection banner.
They are also introducing a top of the range Firm Edge Pocket Divan Base as an additional offer. This will complement a Dunlopillo mattress and enhance the level of comfort and support offered. Plus, following customer feedback, they are adding standard height headboards to the Dunlopillo Signature Collection, a welcome addition which will help accommodate and appeal to a larger audience.
Continuing to strengthen the brand, they will be showing a new POS system at the AIS show this year which is aimed at lifting Dunlopillo's in store presentation and professionalism to an impressive new level! Limited numbers of these brand new POS systems will be available to be ordered at the show for fast delivery.
All these exciting new launches, plus new fabrics options to keep the Dunlopillo colour palette fresh and up to date will be available to view at the show.
Come and visit our bed shop near me (that's you of course) to try out the range of Dunlopillo beds and mattresses in our showroom in Burgess Hill, West Sussex. Click here to get directions to our bed shop on Google maps