Divan Bed or Bed Frame – What Bed Type Should You Choose?
Looking to buy a new bed? Well there's a big decision that you'll need to make - is it going to be a divan bed or a frame? A decision that's harder than it looks… After-all, you'll spend roughly 200,000 hours of your life in your bed so you don't want to waste money on a bed you don't like.

Hypnos Beds » Sealy Beds» Wooden Bed Frames» Metal Bed Frames»
Divan Beds
Divan beds are often written off by modern buyers as being old-fashioned. You get that image of your granny's eyesore of a divan covered in pink frilly sheets to cover up the seventies floral base design. But these days divan beds are much more fashionable, as they are upholstered in a wide variety of fabrics and leathers. Which is why divan beds are so popular – you get so much choice with your bed!
Generally a divan bed is a base that you then add a headboard and mattress of your choice. This makes divan beds very flexible to your personal preferences. If you want a diamanté encrusted upholstered headboard or a more traditional wooden headboard – both are possible with your divan base.
One great advantage of a divan bed is that you can get a base with in-built storage. No more trying to store shoes under a bed to become dusty. With storage drawers you can keep you shoes dust free and easy to find. If you require even more storage, the ottoman base is for you.
Another advantage of a divan bed is that it takes up less space in a room as the bed is only as wide as the mattress – frames can be bulky and take up crucial space. This is particularly good if you don't have a lot of spare space to sacrifice.
Divan bases come with padded tops (also known as platform top), sprung edge or firm edge finishes. A padded top gives a slightly firmer feel to your mattress, whilst using a sprung base gives added comfort and support.
Bed Frames
Bed frames or bedsteads have become increasingly popular over the last 5 or so years. In particular wooden frames, which add a degree of splendour to a room, and metal frames, which are an affordable way to add glamour to a room, are very popular.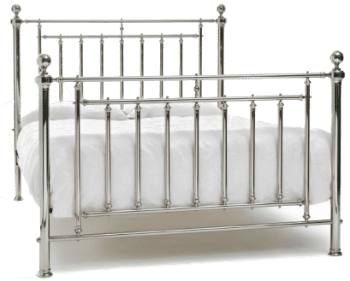 Similar to traditional divans, bed frames also come in a variety of styles and materials allowing you to really match a bed to your style. They are larger so tend to be the focal point of a room. Good quality wooden frames will always look expensive and will last in your bedroom for years to come due to their timeless appeal and sturdiness. Plus you won't need to buy a separate headboard!
Most mattresses are now compatible with frames so if you need a specific type of mattress you needn't be put off by a frame bed. A frame bed with timber slats will provide firmer support than one with sprung slats.
With metal and wooden beds you need to keep in mind that their bolts might need to be tightened every so often, otherwise your bed may become squeaky. However, if you don't mind doing this, they can look amazing in a bedroom.
There's a great choice of mattresses with many of them being easy care no turn. For a luxurious pocket sprung mattress with natural fillings look at our Hypnos mattresses. They have a great range of firmer ortho mattresses as well as a sumptuous collection of Hypnos pillow top mattresses. Choose a Dunlopillo mattress that is 100% latex. They are available in a medium and firmer feel. Alternatively, we have the posturepaedic range of Sealy mattresses offer excellent value.
So which do you choose?
Really it's up to you! Both divan and frame beds have their advantages and disadvantages. It all comes down to personal preference. Whatever bed you do choose, though, make sure that you buy a good quality bed otherwise you might find your new bed won't last as long as you hoped.
Before you leave, if you found this article helpful would you mind sharing to your social media profiles. Thank you
Image courtesy of Master isolated images at FreeDigitalPhotos.net.
Updated 16.12.20