Relyon Mattress Review The Relyon Marquess
We're here to help you buy a mattress that is right for you. We offer a wide range of mattresses from leading manufacturers, which are designed to meet a variety of sleep needs and preferences. Whether you prefer a firm mattress, a soft mattress or somewhere in between, we can help you choose the mattress that's best for you. The Relyon Marquess ticks all the above boxes as it is available in three tensions on a choice of divan bases.
When you choose a mattress based on price alone, you could be buying a mattress you'll have to replace sooner than you'd like. It's important to choose the right mattress based on your specific needs. Here's what you should consider when buying a new mattress:
Sleep position: How do you sleep? On your back, side or stomach? Is your mattress firm enough to support you?
Weight: If you're a large person, you'll need a mattress that supports your weight.
Mattress firmness: Do you prefer a hard mattress or a soft mattress?
This week our Relyon mattress review is the Marquess.
The Relyon Marquess mattress is one of Relyon most luxurious mattresses in their Heritage range. I have been looking forward to testing this mattress, which is also one of Relyon's softest mattresses, as I love a mattress you can really sink into.
What's inside the Relyon Marquess Mattress?
This 2 sided Relyon Marquess mattress comprises:
A double layer of 2200 hand nested and hand centre tied pocket springs
Hand teased mohair
Hand teased lambswool
Lambswool
Hypo-Allergenic layer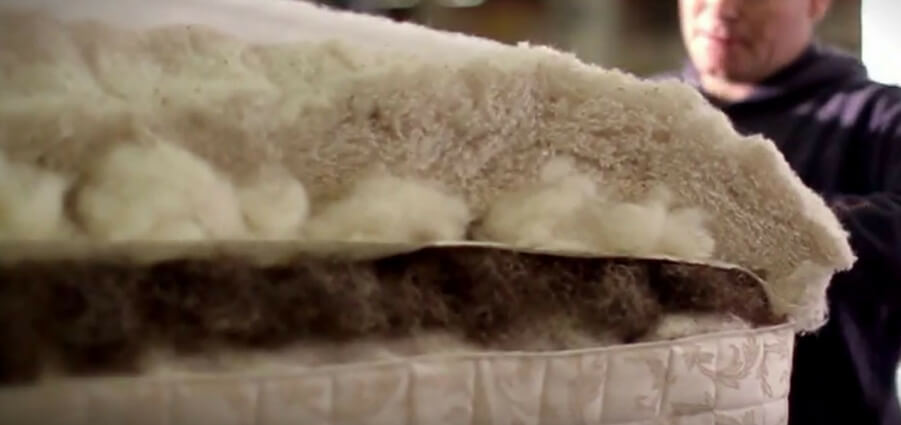 Relyon Marquess Mattress finishing touches:
M-Pure treated mattress cover
Hand tufted with wool tufts
3 rows of side stitching
Strong flag stitched handles (4 on a single Relyon mattress and 6 on a double Relyon mattress and bigger)
The Marquess is available in a soft, medium and firm tension
Information on all the upholstery fillings and springs can be found on our Relyon - What's in my mattress page.

Our Relyon Marquess mattress is a medium tension mattress and is on show in our bed shop paired with a non-storage platform top divan base. To the touch the bio-degradable, environmentally friendly and 100% sustainable mattress cover is soft as sateen.
Sitting on the mattress I did notice it was reasonably soft. From the bum test some might say too soft, but you must give a bed a chance. The mattress depressed, but the 3 rows of hand side stitching came into their own giving support to the side of the mattress. The padded top divan base ensured it did not sink too much. On laying down my weight was distributed across the surface, I felt a sort of weightlessness and a sense of indulgent luxury. Was this because I knew this mattress was crammed with layers of hand teased mohair and hand teased lambswool or that it really did feel so good. It really did feel so good. It oozes quality. Not only can you tell this physically, we know the passion, dedication, and true craftsmanship that goes into hand making a Relyon Heritage mattress. Relyon must know a thing or two about natural upholstery products as they started life as a Wool merchant in 1858.
Laying here for longer than I should have, I noticed that even though I was sinking into the layers of upholstery on this amazing mattress I still felt well supported. I am a side sleeper and it almost felt as though this mattress had been designed for me. Soft enough to let my shoulders and hips sink into the upholstery but keeping me afloat allowing my spine to stay aligned. More importantly my muscles and body felt relaxed, almost enough to make me start feeling drowsy in our showroom. I've talked about the upholstery which certainly provides a great deal of comfort, but it's the 2200 pocket springs, that are hand nested in a honeycomb pattern and centre tied with linen cord that gives me the support I am feeling. The pocket springs are set up in this way to help eliminate the transfer of movement allowing you to sleep better so you can wake up refreshed and ready to face your day.
Although we have the Relyon Marquess mattress paired with a platform top divan base, it is recommended that it sits on a Heritage firm edge pocket divan base. The sprung base will give a heightened feeling of gentle comfort, which will suit many. Personally, I prefer a platform top base, but that's the beauty of beds and mattresses, they're almost like a fashion, everyone has their own taste and just because it might not be for some, you'll know what suits you.
Upholstery fabrics are the first thing that anyone sees when they walk in the room, so it is important to choose fabrics that are beautiful, long lasting, and that you love. You're sure to find the right one to upholster your bed in within the Relyon fabric library. To finish your bed add an upholstered Relyon headboard. They are a great way to create a more stylish look in your bedroom. They can also be the perfect choice for a room where you want to achieve a sophisticated look while still keeping things simple.
Big Brand Beds Relyon mattress review
I have been reviewing mattresses for a while, and I can honestly say that this Relyon mattress is one of the best I have ever tried. Made in the UK, it is a really well made mattress. Being a luxury mattress it is a bit more expensive than others but it is definitely worth it. With a 8 year guarantee you can sleep safe knowing this mattress will stand the test of time. And don't forget the soft tension is considered to be the softest mattress Relyon make.
How is my Relyon mattress made?
Before you leave, if you found this article helpful would you mind sharing to your social media profiles. Thank you