Relyon Mattress Review The Intense Ortho 800
There are many things that can affect the quality of your sleep. One of the most important factors is the mattress that you sleep on. You may not give much thought about the mattress that you sleep on, but this important piece of your bedding is one of the factors that will help you sleep better. Brushing up on the information in this article can help you pick the best mattress to meet your needs and improve your sleep.
You want something that will give you a good supportive night's sleep without breaking the bank. The Intense Ortho 800 mattress has been around for a long time* and is an extremely popular inexpensive firm pocket sprung mattress.
This week we're reviewing the Relyon Intense Ortho 800 Mattress
This Relyon mattress is one of the most popular from the contemporary range. It's a really good firm Relyon mattress at a great price.
What's inside the Relyon Intense Ortho 800 Mattress?
Comfort Zone
1. A 100% natural probiotic fabric treatment to protect against allergens, bacteria and odours, promoting a fresh and healthy mattress
2. Ultimate support layers designed to provide excellent levels of comfort and support
Support Zone
3. 800 Posturepocket spring system provides pressure relief and perfect support for you and your partner
Relyon Intense Ortho 800 Mattress finishing touches:
Tufted mattress
Quilted border
Strong flag stitched handles
The Intense Ortho 800 is available in one tension only - firm
Both sides of this mattress can be used prolonging it's life of the. We recommend that you turnover and rotate your mattress once a week for the first 3 months and then once a month thereafter.
Information on all the upholstery fillings and springs can be found on our Relyon - What's in my mattress page.

We have this supportive mattress displayed in our bed shop on a platform top divan base, which gives it great support. The is Intense Ortho 800 mattress is a firm mattress and like a good performing paint, does exactly what it says on the tin!
This is a classic orthopaedic mattress, with a striped mattress cover with a natural probiotic fabric treatment. The mattress is firm enough that it doesn't collapse when you sit on the side. This is also helped by the divan base being solid.
Laying down on my back, I didn't sink into luxurious or exotic fillings, the sensation was just one of support. My entire upper body felt like it was being held exactly as I needed. The release of pressure off my aching muscles was so satisfying I could have stayed there all day. Now after my back felt rejuvenated, I tried laying on my side and as I mentioned this really is a firm mattress and my lightweight body just didn't sink in at all. My body shape felt like it was in an unnatural position, but I do prefer a softer mattress as I am a side sleeper. If you are of a heavier build, prefer to sleep on your back and like a firmer feel then this mattress is certainly a contender.
Another key point everyone must take into account is price, and this is another reason this mattress holds its place as a fantastic seller. For example a 5ft king size Relyon mattress is currently on offer reduced from £479 to £369.00. Relyon mattresses come with a standard guarantee of 8 years, so for 8 years, its 12.5p per night, amazing value.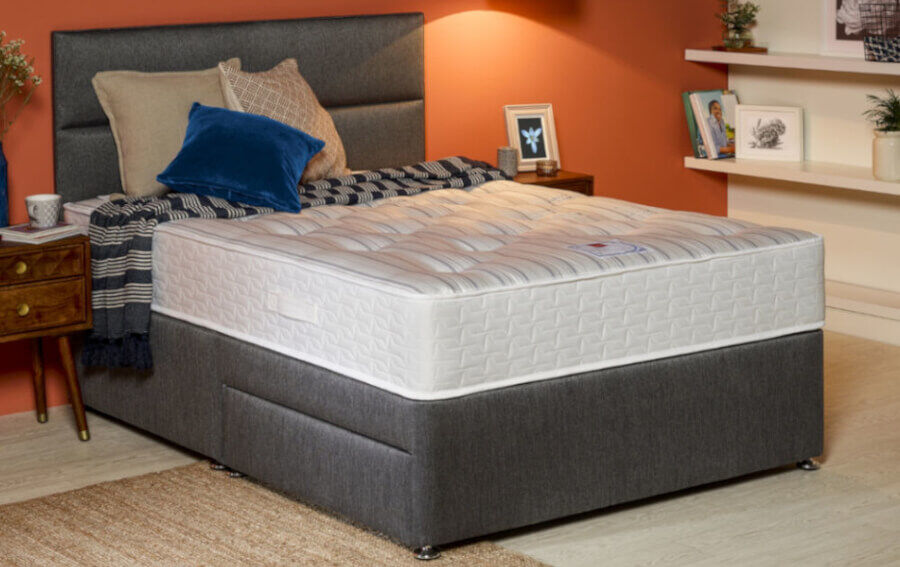 What Relyon divan bases are available to pair with the Intense Ortho 800 mattress?
Relyon only offer a platform top divan base with this mattress
Relyon platform top divan base
Relyon platform top divan base with drawers
Relyon 3/4 height platform top divan base
Relyon 3/4 height platform top divan base with drawers
Relyon ottoman bed
Relyon bed on legs
With a large range of upholstery fabrics, we're sure you'll find a style to suit your tastes. Whether you're looking for a bold and eye-catching pattern or prefer a more subdued colour palette, Relyon have upholstery fabric to suit every taste. Browse through the Relyon fabric library to see what we have to offer, and start dreaming up your bed. To finish your bed add an upholstered Relyon headboard to make your bed the centre piece of your bedroom.
*The Intense Ortho 800 mattress has been around for a long time, first manufactured by Myers. The bed was rebranded under the Slumberland label, but still being made in the same factory to the same specification. Sadly, Bensons for Beds acquired the Steinhoff Group, which included Myers, Slumberland, Relyon to name a few in November 2019 and subsequently went into administration on 30 June 2020. Rising like a phoenix from the ashes the company was immediately bought back in a pre-pack insolvency deal meaning the Myers and Slumberland brand became exclusive to Bensons for Beds. Fortunately, the Relyon brand was able to be saved by a management buyout, enabling Relyon mattresses and beds to continue to be sold by independent retailers.
Because of the success of the Intense Ortho 800 mattress, Relyon picked up the mantle and decided to continue manufacturing it under their brand, which was great news for us.
Big Brand Beds Relyon mattress review
Buying a mattress is a very personal decision. It's something that you're going to be sleeping on every night for the next ten years. It's important that you choose a mattress that is right for you. If you need a good firm mattress that is excellent value for money then the Relyon Intense Ortho 800 mattress could be for you.
How is my Relyon mattress made?
Before you leave, if you found this article helpful would you mind sharing to your social media profiles. Thank you