Relyon Mattress Review The Relyon Coniston Natural Wool 2200
The Relyon Coniston Natural Wool 2200 Mattress has become our best selling Relyon mattress.
It's pretty hard to sleep wrong. It's just you and the mattress, after all. But if you're like most people, you sleep best when you're on your side, with your knees bent slightly. That's why it makes sense to get a mattress that's ideal for side sleepers. But finding the right one for you means considering more than just your sleep position. It also means considering your mattress budget, your mattress firmness preferences, and your mattress length. That's why we think the Relyon Coniston Natural Wool 2200 mattress will tick many boxes and is built for side sleeping.
This week our Relyon mattress review is the Coniston Natural Wool 2200.
Many mattresses use wool as a comfort layer as wool is one of the most versatile natural fibres in the world. It has been used for centuries in a wide range of applications including clothing, bedding, carpets, upholstery, and even in the medical industry. Wool is a natural fibre that is particularly known for its exceptional insulation properties.
What are the benefits of using wool in a mattress?
Wool is a natural fibre that is soft, warm, breathable and hypoallergenic. It is naturally flame retardant, does not itch, and is an ideal temperature regulator. Wool has been proven to be an effective moisture wicking material that keeps you cool in the heat and warm in the cold.
Today we are reviewing the Relyon Coniston Natural Wool 2200 Mattress. We have a double Relyon bed with 2 drawers on a firm edge sprung divan base on display in our bed shop.
Immediate impressions are this Relyon bed looks a lot of bed for your money. The deep layers of fillings and two rows of side stitching give the appearance of a much more expensive bed. The bed is 70cm high which is ideal for taller people. Relyon will also make a low height divan base of 32cm which will bring the overall height down to 62cm.

What's inside the Relyon Coniston Natural Wool 2200 Mattress?
This no turn Relyon Coniston Natural Wool 2200 Mattress comprises:
A double layer of 2200 pocket springs
Wool
Deep soft layers of dust free filling
Information on all the upholstery fillings and springs can be found on our Relyon - What's in my mattress page.
Relyon Coniston Natural Wool 2200 Mattress finishing touches:
Silky soft mattress cover
Hand tufted with wool tufts
2 rows of side stitching
Strong flag stitched handles (4 on a single Relyon mattress and 6 on a double Relyon mattress and bigger)
The Coniston Natural Wool 2200 is available in a medium tension
As I sit on the mattress in preparation for lying down, I immediately notice the benefit of the firm edge sprung divan base. The side of the bed does not collapse as much as it used to on a sprung edge base. Lying down it was evident that the comfort was still at the same level with the firm edge sprung base providing a supremely comfortable feel. A firm edge divan is made with the same springs and offers all the comfort of a sprung edge base. The only difference is the springs are set inside a timber frame which helps prevent roll off and offers a greater sleeping surface rather than being on top of the frame.
I'd always thought that this bed would be too soft for me, but after lying on it for 5 minutes I realised just how supportive and comfortable it really is. The deep layers of wool, which is a natural insulator providing coolness in the summer and warmth in the winter provide a really cosy feel. Lying on my side I could feel the wool fillings providing comfort to the parts of my body with most pressure, namely shoulders and hips. The pockets on the sprung divan base were supportive without too much give. I then flipped onto my back and checked out the voids. Placing my hand under the small of my back I could feel the area filled with comfortable layers of wool upholstery. This is held in place with traditional wool tufts.
There are 2200 pocket springs in this king size Relyon mattress. Pocket springs move independently and provide the best postural support. The individual pocket springs follow and support your body shape and weight. A huge benefit of this Relyon mattress is that it requires no turning, a very useful feature as the double mattress weighs 36kgs.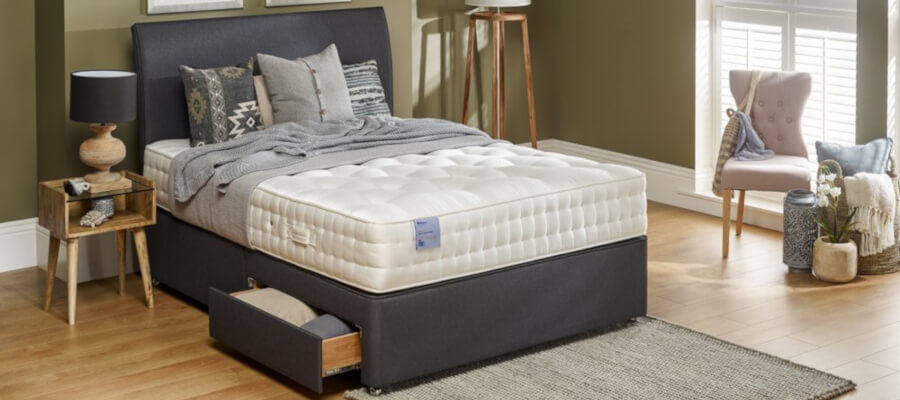 From bold, bright designs to classic, muted neutrals, there are so many ways to style your Relyon bed. Relyon have got an upholstery fabric to match your individual style, whether you're looking to make a statement or prefer a more sophisticated look. For the ultimate look complete your bed with a matching Relyon headboard. There's plenty of choice. And don't forget that all Relyon beds and mattresses come with a full 8 year guarantee.
Big Brand Beds Relyon mattress review
It's easy to see why this is our best selling Relyon mattress. I have never thought a medium comfort mattress would be for me as I am tall with a big build. However, I could easily sleep on this bed. Not only is it extremely comfortable, it's great value as well. And for those who prefer a slightly firmer feel, but want the benefits of this great Relyon mattress, pair it with a platform top divan base.
How is my Relyon mattress made?
Before you leave, if you found this article helpful would you mind sharing to your social media profiles. Thank you