Relyon Mattress Review The React Memory 1400
The mattress is one of the most important items in your bedroom because it supports your back, neck and shoulders while you sleep. It reduces the pressure points on the body and allows you to breathe easier while you sleep. We have researched the best mattresses for side sleepers and have found the best products that will help you sleep better and improve your overall health.
If you love sleeping on your side and you're on the market for a new mattress, you're in luck. We believe that the Relyon React Memory 1400 mattress fits the bill for the majority of side sleepers.
This week we're reviewing the Relyon React Memory 1400 Mattress
This Relyon mattress is another very popular model from the contemporary range. The generous layer of memory makes this a really comfortable Relyon mattress at a great price.
What's inside the Relyon React Memory 1400 Mattress?
Comfort Zone
1. A 100% natural probiotic fabric treatment to protect against allergens, bacteria and odours, promoting a fresh and healthy mattress
2. Memory foam layer with Respire. Memory foam enhanced with engineered perforations creates improved air circulation for a cooler night's sleep
Support Zone
3. 1400 Posturepocket spring system provides pressure relief and perfect support for you and your partner
4. Firmer springs along the sides add strength to the mattress and allow you to use the whole surface of the mattress as a sleeping area.
Relyon React Memory 1400 finishing touches:
Deep quilted mattress
Quilted border
4 Strong flag stitched handles
The React Memory 1400 is available in one tension only - medium
This is a singled side mattress that should not be flipped. Rotating this mattress regularly can help prolong it's life.
Information on all the upholstery fillings and springs can be found on our Relyon - What's in my mattress page.

This is another Relyon mattress with an eye catching deep quilted knitted mattress cover that feels great. Relyon React Memory 1400 mattress is a big mattress at 33cm deep. As with all mattresses that have a quilted side panel, when I sit on the bed, the side panels bow out. This is not a fault and quite normal. Just sitting on the bed I can tell that I would be very at home sleeping on it. It has a medium firm support and I can feel the cushioning of the 50mm deep layer of memory as I am sitting.
Lying on my back I am immediately taken with the comfort and support of this mattress. I really can feel the comfort of the memory foam as I sink into it and then before I go too far the supportive pocket springs kick in. It's very easy to turn on and I move onto my side effortlessly. It is extremely comfortable in all the positions I try on my side – arm under head, arm to the side etc. For someone who has slept on a Dunlopillo latex mattress for 26 years, this hybrid memory foam mattress has really impressed me.
Unlike some memory foam mattresses that need time to warm up through your body heat the memory foam in the Relyon React Memory 1400 mattress moulds to my body shape almost immediately. It feels a little on the firm side for a person of my size (6'5" & 17 stone) who might want to sleep on their front, but for a smaller person who likes to sleep on their front, the memory foam layer might just be soft enough. A small downside is the mattress cover can look a little scrunched up after sitting on it. However, this would not be noticeable once the bed is made.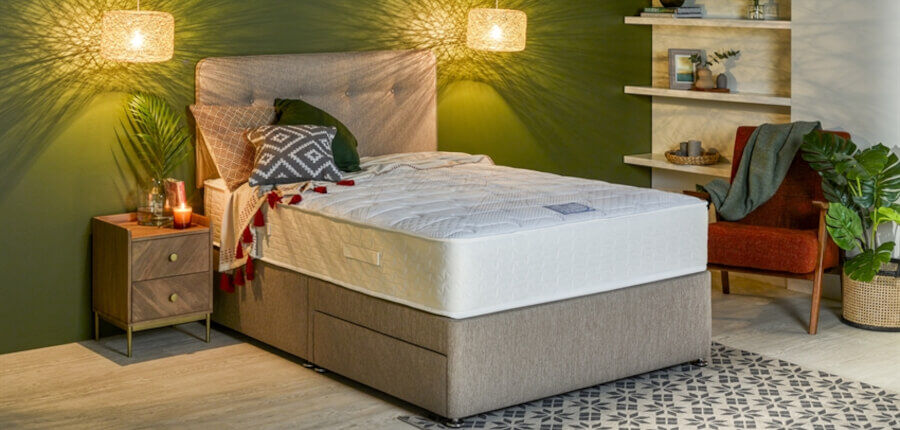 What Relyon divan bases are available to pair with the React Memory 1400 mattress?
Relyon only offer a platform top divan base with this mattress
Relyon platform top divan base
Relyon platform top divan base with drawers
Relyon 3/4 height platform top divan base
Relyon 3/4 height platform top divan base with drawers
Relyon ottoman bed
Relyon bed on legs
Relyon have got a lot of different fabrics for upholstering your new bed, and they're all pretty awesome. You've decided on a new bed and now you're ready to start customizing it with a new fabric. You'll find something that's just right for you right here. To finish your bed add an upholstered Relyon headboard to make your bed a real show piece. A Relyon headboard is the perfect way to add some individuality to your bed. Whether you're looking to bring life and colour into your room or simply want to add a touch of luxury, the headboard is the perfect way to achieve this
*The React Memory 1400 mattress has been around for a long time, first manufactured by Myers and then rebranded under the Slumberland label. The huge success of the this bed meant that when the manufacturing plant at Huntingdon closed, Relyon took up the rights to several best sellers and now make this under their brand ensuring this best seller can continue to be sold by independent retailers.
Big Brand Beds Relyon mattress review
A good mattress is a key part of a good night's sleep and this mattress is ideal for side sleepers. It provides exceptional comfort as it is upholstered with a generous layers memory foam.
How is my Relyon mattress made?
Before you leave, if you found this article helpful would you mind sharing to your social media profiles. Thank you