Relyon Mattress Review The Radiance Comfort 1000
The first time you lay on a mattress, you know whether or not it's right for you or not, but it can be difficult to know how a mattress will feel after a few months or years of use. We want you to be confident that you are choosing the right mattress for you and hope that our honest mattress reviews help you make the right choice.
It's difficult to find a comfortable mattress. You will often have to try many before you find the right one. The Radiance Comfort 1000 mattress is a very popular medium feel Relyon pocket sprung mattress suited for both side and back sleepers.
This week we're reviewing the Relyon Radiance Comfort 1000 Mattress
This Relyon mattress is one of the most popular from the contemporary range. It's a really comfortable Relyon mattress at a great price.
What's inside the Relyon Radiance Comfort 1000 Mattress?
Comfort Zone
1. A 100% natural probiotic fabric treatment to protect against allergens, bacteria and odours, promoting a fresh and healthy mattress
2. Sumptuous comfort layer
2. Ultimate support layer designed to provide excellent levels of comfort and support
Support Zone
3. 1000 Posturepocket spring system provides pressure relief and perfect support for you and your partner
4. Firmer springs along the sides add strength to the mattress and allow you to use the whole surface of the mattress as a sleeping area.
Relyon Radiance Comfort 1000 Mattress finishing touches:
Deep quilted mattress cover
Quilted border
4 strong flag stitched handles
The Radiance Comfort 1000 is available in one tension only - medium
This is a single sided mattress and should be rotated on a regular basis. this will help prolong the life of the mattress.
Information on all the upholstery fillings and springs can be found on our Relyon - What's in my mattress page.

We have this mattress displayed in our bed shop on a platform top divan base with 2 storage drawers.
The deep quilted knitted mattress cover on the Relyon Radiance Comfort 1000 mattress is soft to touch and looks good. Sitting on the mattress I feel fairly well supported. The quilted side panel with flag stitched handles on it bows out slightly. This is normal and not a fault on this type of mattress, which is not hand side stitched. Side stitched mattresses help hold the shape of the mattress.
On lying back the mattress is supportive, but I feel cushioned by a good layer of upholstery. Rolling onto my side is easy and the mattress still feels supportive and comfortable. Lying on my front is not for me. I'm a big person and would need a softer mattress if this was my chosen sleep position. However for lighter people who swap between side and front this mattress should be fine. .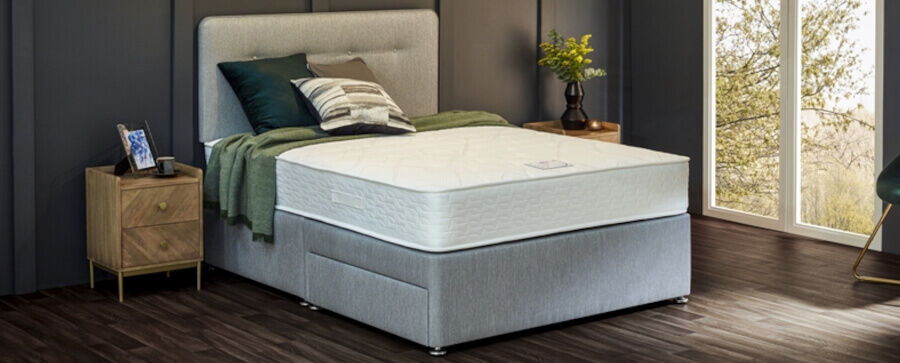 What Relyon divan bases are available to pair with the Radiance Comfort 1000 mattress?
Relyon only offer a platform top divan base with this mattress
Relyon platform top divan base
Relyon platform top divan base with drawers
Relyon 3/4 height platform top divan base
Relyon 3/4 height platform top divan base with drawers
Relyon ottoman bed
Relyon bed on legs
Once you've chosen your bed you'll need to choose the upholstery fabrics. You're sure to find something suitable to suit your bedroom. Once you've decided on the fabric, think about completing the look with upholstered Relyon headboard. The headboard is a great way to personalise your bed and make a statement. Relyon headboards come in a variety of styles to suit any taste and bedroom setting. And the choice of fabric is yours – from soft natural materials to crisp, bold colours.
Big Brand Beds Relyon mattress review
It's easy to see why this is a best selling bed. It is an uncomplicated comfortable bed at a great price from one of the UK's leading bed manufacturers. There is nothing to dislike about it. It is a good medium feel mattress that is suitable for both side and back sleepers
How is my Relyon mattress made?
Before you leave, if you found this article helpful would you mind sharing to your social media profiles. Thank you