Hypnos Mattress Review The Hypnos Wisteria Seasons Turn
This week I'll be reviewing the Hypnos Wisteria Seasons Turn Mattress. This is the most luxurious mattress in the range.
This week our Hypnos mattress review is the Wisteria Seasons Turn.
Shopping for a mattress online can be a dicey proposition. You know that you need a new mattress, but you're not sure which one to buy. The wide variety of mattress brands, models, and prices can be overwhelming. And the idea of spending hundreds of pounds without trying out your purchase first doesn't sit well with you. So, you make the decision to buy a mattress online. But then you have second thoughts. Hopefully our informative Hypnos review can help you make the correct choice.
First, let's talk about the company that makes the Hypnos Wisteria mattresses. Hypnos has been around since 1919 and has become one of the best-known brands in the mattress industry.
The Wisteria Seasons Turn is a monster of a mattress, coming in at nearly 12 inches / 30cm deep. With 3 rows of hand side stitching and layer upon layer of the highest quality natural fillings this really could be the best Hypnos mattress for all seasons.
What's inside the Hypnos Wisteria Seasons Turn Mattress?
This 2 sided turnable Hypnos Wisteria Seasons Turn mattress comprises:
ReActive™ 8 turn pocket springs
Wool and Alpaca on the warmer side
Cotton and Bamboo on the cooler side

Hypnos Wisteria Seasons Turn mattress finishing touches:
Chemical free M:Pure™ Belgian damask mattress cover
Hand tufted
3 rows of hand side stitching
Flag stitched handles (4 on a single Hypnos mattress and 8 on a double Hypnos mattress and bigger)
16 air vents on a double Hypnos mattress and bigger
The Wisteria Seasons Turn mattress is available in a medium tension.

Information on all the upholstery fillings and springs can be found on our Hypnos bed & mattress product information page.
We have a king size Hypnos Wisteria Seasons Turn mattress on display in our bed shop with the warmer winter side ready to lie on. Sitting on the mattress in preparation for lying down, it is evident that the 3 rows of hand side stitching really support the side of this mattress. Unlike some cheap mattresses this doesn't sink down when sat on. The firm edge sprung divan base adds additional support to the side of the bed.
The warmer side of this seasonal turn mattress feels cozy and comforting, giving me exceptional support. The deep cushion of upholstery feels almost indulgent. I can feel the subtle resistance of the individual pocket springs pushing up gently to give my body the correct support and spinal alignment. The woollen tuffs which hold the layers of upholstery in place are lost within the sumptuous surface and undetectable to the body's touch. The damask mattress cover is silky smooth to touch almost like it had already been made up with top quality sateen hotel sheets.
Time to turn the mattress to feel the Summer side. My top tip is to make sure that you have someone to help you as this king size Hypnos mattress has some serious weight to it and you could do yourself an injury flipping it on your own. My initial thought was the summer side might feel a little firmer without the deep warming layers of wool and alpaca. I was wrong and it just goes to show, you shouldn't judge a book by its cover. The Summer side is upholstered withing cooling layers of cotton and bamboo and held my body shape perfectly allowing me to contour into the filling as much as my body desired. Movement and turning into different sleeping positions seems effortless. I felt equally comfortable lying on my side, back and front. And it he warmth of our bed shop I could appreciate the difference in both sides' upholstery.
The Wisteria mattress, like all the other Hypnos mattresses comes with every base option possible. We display it with a firm edge sprung Hypnos divan base to accentuate the comfort. For a slightly firmer feel choose a platform top divan base. Once you've chosen your perfect divan base, pair it with a luxury Euro slim Hypnos headboard and this will be a bed that will stand out for decades.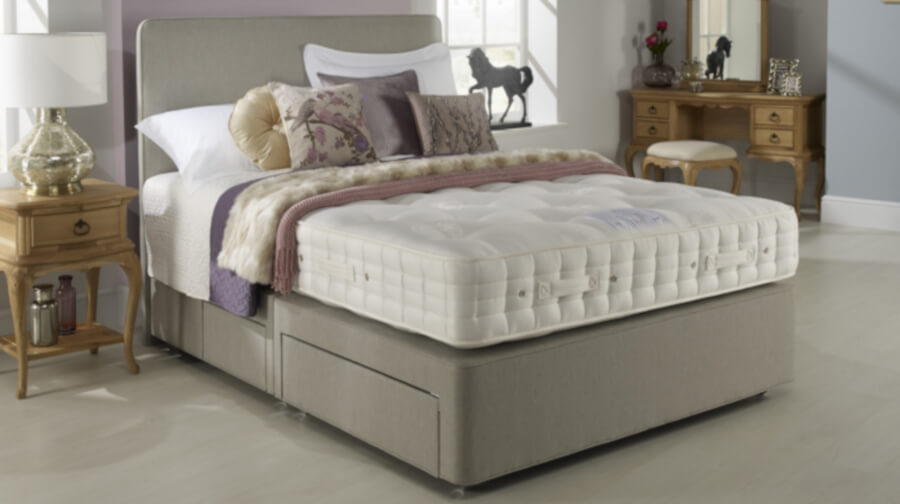 Which Hypnos divan base should I pair the Wisteria Seasons Turn mattress with?
For a gentler feel choose a Hypnos sprung divan base - recommended
Hypnos firm edge divan base
For a firmer more supportive feel choose a platform top divan base
Hypnos platform top divan base
Hypnos Hideaway bed
Hypnos ottoman bed
Hypnos EasyStore divan base - Discontinued in September 2021
Big Brand Beds Hypnos mattress review
You get a huge amount of mattress for your money. The sheer size and weight of it is enough to see your getting a lot of bed for your money. With seasonal warmer and cooler sides, the Hypnos Wisteria Seasons Turn mattress has ticked all the boxes for being a fantastic luxury all rounder. Not too soft and not too firm, this is a mattress that should suit everybody. If you have the strength, this is an extraordinarily comfortable mattress.
As there are several choices in this Hypnos mattress range you might ask:
What is the difference between the Hypnos mattresses in their Seasons Turn collection?
When it comes to buying a mattress, there are a lot of things to consider. With 3 different types of mattresses available in this collection, it can be hard to know which one is best for you. Below, you'll find a mattress comparison table with the three different mattresses, each with their own features.
Hypnos

Magnolia Mattress

Hypnos

Larkspur Mattress

Hypnos

Wisteria Mattress

Turnable

Seasonal turn mattress
Seasonal turn mattress
Seasonal turn mattress

Spring

Type

ReActive™ 6-turn

pocket spring

ReActive™ 7-turn

pocket spring

ReActive™ 8-turn

pocket spring

Rows of

Hand side stitching

2 rows

of genuine hand side-stitching

2 rows

of genuine hand side-stitching

3 rows

of genuine hand side-stitching

Summer

Fillings

Cotton
Cotton & Silk
Cotton & Bamboo

Winter

Fillings

Wool
Wool & Cashmere
Wool & Alpaca

Comfort level 1-9

(9 being the firmest)

Medium Feel
Medium Feel
Medium Feel

Comfort on a Hypnos

Sprung divan base

6
4
5

Comfort on a Hypnos

Platform top divan base

7
5
6

Mattress Cover

M:Pure™ damask cover
M:Pure™ damask cover
M:Pure™ damask cover

Flag stitched Handles

8
8
8

Air Vents

16
16
16

Woollen Tufts

32
32
32

Recylable

100% Recyclable
100% Recyclable
100% Recyclable

Guarantee

10 years
10 years
10 years
Why should I buy a Hypnos mattress?
This video should leave you in no doubt that a Hypnos mattress is one of the most comfortable mattresses in the world
Before you leave, if you found this article helpful would you mind sharing to your social media profiles. Thank you
Come and visit our bed shop in Burgess Hill, West Sussex to try out or range of Hypnos beds and Hypnos mattresses. Click here to get directions to our bed shop on Google maps. We are the best place to buy beds.
The X Section shown is indicative of, not the actual of the Magnolia Seasons Turn mattress.