Hypnos Mattress Review The Hypnos Orthocare 10
After working in the beds and furniture industry for many years it's easy to see the differences between some beds and their overall benefits. However, it's easy for me to forget that generally to most people, every mattress looks similar. Most look comfy, but with different top coverings. But this couldn't be further from the truth as you'll see with this week's review.
This week my Hypnos mattress review is the Orthocare 10.
What is the best mattress to buy? The one that you find the most comfortable. The best way to find the most comfortable mattress for you is to try it before you buy it. We are a local business with a local showroom where you can try before you buy. Our consultants will help you find the perfect bed for your needs. However, if you can't make it to our showroom and are tempted to order online, we hope our informative Hypnos mattress review will help you make the right decision.
Mattresses can be a big investment, so it's important to take the time to do your research. The right mattress can help you get a good night's sleep, but the wrong mattress can leave you tossing and turning all night. Follow our guide to find out if the Hypnos Orthocare 10 mattress is right for you.
It's important to review Hypnos mattresses as early in the day as possible as I don't want to be feeling tired. Now as I have said before this Hypnos bed sits in our showroom looking like any other Hypnos bed. But when I lie on it everything feels just perfect. When in bed I always start off laying on my back in a slightly upright position. I know you shouldn't, but I watch TV in bed normally for at least 2 hours before sleep so this position is key for support and this Hypnos mattress gives that through its clever spring system. Hypnos uses Re-Active springs and with this model it has 10 coil turns per spring giving ample movement to allow it to adjust and contour to my constantly moving body. The golden ticket for me is because it provides individual support I won't wake my partner by tossing and turning - bonus all round then!
What's inside the Hypnos Orthocare 10 Mattress?
This no turn Hypnos Orthocare 10 mattress comprises:
ReActive™ 10 turn zoned pocket springs
Wool
Cashmere
eOlus™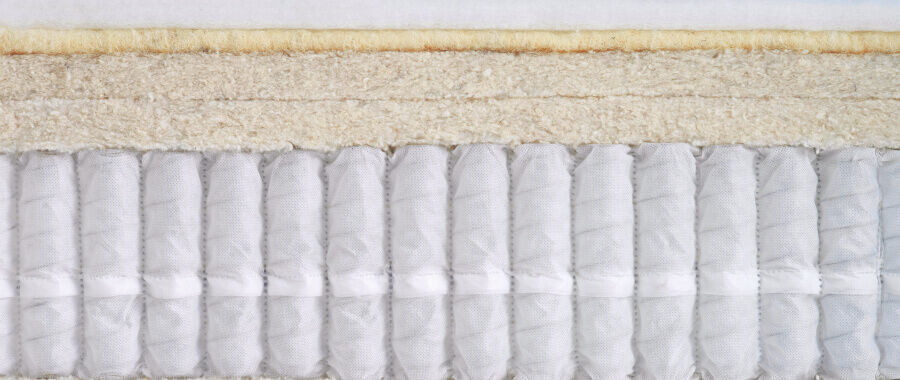 Hypnos Orthocare 10 mattress finishing touches:
Chemical free Belgian damask mattress cover
Hand tufted
2 rows of hand side stitching
Flag stitched handles (4 on a single Hypnos mattress and 8 on a double Hypnos mattress and bigger)
16 air vents on a double Hypnos mattress and bigger
The Orthocare 10 mattress is available in a firm or extra firm tension
Information on all the upholstery fillings and springs can be found on our Hypnos bed & mattress product information page.
Springs in a bed are a great thing but not when you can feel them through a poorly filled mattress. Don't worry though I've tried feeling them in this mattress and it's just not happening. All I can feel is the soft fillings of cashmere and British wool making the bed feel cosy and welcoming. After what felt like hours but was 15 minutes I wasn't feeling myself getting hot even though I'm fully clothed and in a warm showroom. Although cashmere and wool and natural breathable fibres, the addition of eOlus helps further. eOlus is a sustainable fibre designed to help regulate body temperature and works beautifully in tandem with the generous layers of cashmere and wool.
Have you ever wondered why some mattresses have tufts and stitching down the side whilst others are smooth topped? Everything serves a purpose. This king size Hypnos mattress has 32 tufts and they keep all the fillings in place. Think about it. If you were to continually lie in the same spot, eventually the filling would migrate leaving flat spots and indentations. All Hypnos mattresses are hand side stitched. The side stitching is stitched and looped round a spring, tying the mattress together. This stops it from bowing out if you lay close to the edge. This means if you buy a king size bed you get to use 5ft of bed without feeling like you're going to fall off. But be aware, some mattresses may have machine side stitching which is for cosmetic purposes only and does not tie into the springs. And here's the good news, we've often got some great offers, particularly on a Hypnos king size mattress, so it's well worth checking out our Hypnos mattresses for sale.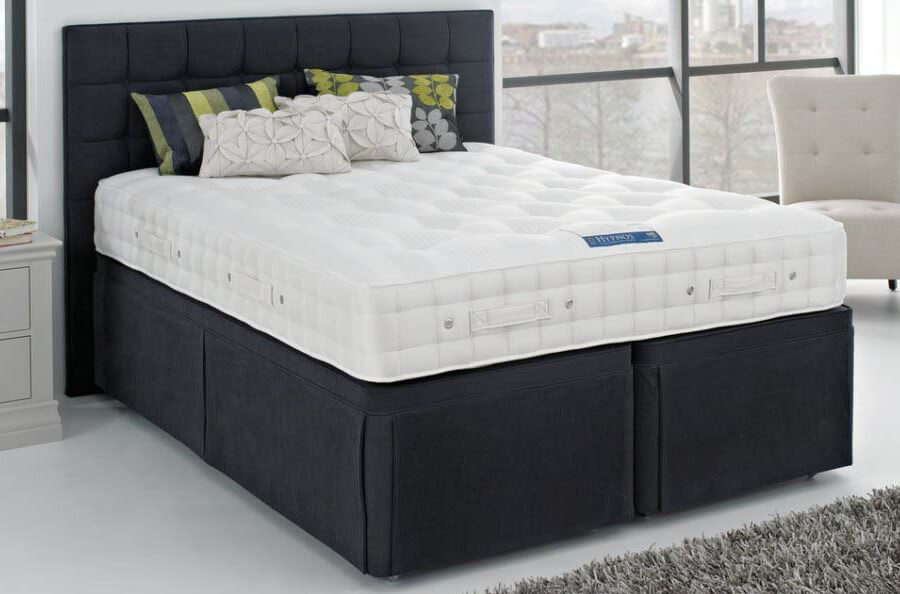 Which Hypnos divan base should I pair the Orthocare 10 mattress with?
For a firmer more supportive feel choose a platform top divan base
Hypnos platform top divan base
Hypnos Hideaway bed - pictured above
Hypnos ottoman bed
Hypnos EasyStore divan base - Discontinued in September 2021
For a gentler feel choose a Hypnos sprung divan base
Hypnos firm edge divan base
We have a king size Hypnos Orthocare 10 in the showroom with a firm mattress on a Super Storage Ottoman base. This ottoman base could fit half my partner's shoes in – and there's an awful lot of them! It's like a horizontal wardrobe, perfect for all the houses with smaller bedrooms that are being built.
If an ottoman isn't for you don't worry it comes with every base option available from non-storage, 2, 4 or 2+2 Drawers and even the famous Hypnos Hideaway. You can choose from over 40 fabrics which are sure to go with any room décor you have or thinking of changing to. As the perfect finishing touch, there's also a wide range of Hypnos headboards that can be upholstered to match the base.
Marks Hypnos mattress review
My personal favourite. This Hypnos bed is extremely comfortable with layers of luxurious upholstery whilst providing me with the necessary support. No wonder it's our best seller.
We hope this mattress review has been helpful for you. If you have any additional questions, please feel free to contact us.
As there are several choices in this Hypnos mattress range you might ask:
What is the difference between the Hypnos mattresses in their Orthocare collection?
If you're in the market for a new mattress, you've likely found yourself wondering which one to choose. Comfort, support and price are just a few of the factors to consider when purchasing a new bed. We're here to help you consider all of the important factors and make the right decision for you. There are four different king size mattresses in this collection. Use the table below to find out more about each one.
Hypnos Orthocare 6 Mattress

Hypnos Orthocare 8 Mattress

Hypnos Orthocare 10 Mattress

Hypnos Orthocare 12 Mattress

Turnable

No turn mattress
No turn mattress
No turn mattress
No turn mattress

Spring

Type

ReActive™ 6-turn

pocket spring

ReActive™ 8-turn

pocket spring

ReActive™ 10-turn

zoned pocket spring

ReActive™ 12-turn

zoned pocket spring

Rows of

Hand side stitching

2 rows of genuine

hand side-stitching

2 rows of genuine

hand side-stitching

2 rows of genuine

hand side-stitching

2 rows of genuine

hand side-stitching

Fillings

Wool & eOlus™
Wool, Silk & eOlus™
Wool, Cashmere & eOlus™

Wool, Alpaca, Cashmere,

Teased hair, Talaley latex & eOlus™

Comfort

Levels

Firm & Extra Firm
Firm & Extra Firm
Firm & Extra Firm
Firm & Extra Firm

Comfort level 1-9

(9 being the firmest)

Based on the Firm Feel
Based on the Firm Feel
Based on the Firm Feel
Based on the Firm Feel

Comfort on a Hypnos

Platform top divan base

7
7.5
6.5
6

Mattress Cover

Chemical free cocona infused Belgium damask
Chemical free cocona infused Belgium damask
Chemical free cocona infused Belgium damask
Chemical free cocona infused Belgium damask

Flag stitched Handles

8
8
8
8

Air Vents

16
16
16
16

Woollen Tufts

32
32
32
32

Recylable

100% Recyclable
100% Recyclable
100% Recyclable
100% Recyclable

Guarantee

10 years
10 years
10 years
10 years
Why should I buy a Hypnos mattress?
This video should leave you in no doubt that a Hypnos mattress is one of the most comfortable mattresses in the world
Before you leave, if you found this article helpful would you mind sharing to your social media profiles. Thank you
X Section of mattress based on the Hypnos Orthos Elite Cashmere mattress
Originally reviewed 23 February 2017