Hypnos Mattress Review The Hypnos Magnolia Seasons Turn
Summer is only round the corner and the sun is shining. Already people are preparing for those warmer nights when a fan or cooler is required to keep cool and to help get a good night's sleep. Overheating can also be caused by the mattress you sleep on, which is why:
This week our Hypnos mattress review is the Magnolia Seasons Turn.
A mattress is something you use every day and is integral to having a good night's sleep. With hundreds of mattresses on the market, it can be a daunting task to choose a mattress that fits your style. That's why we carry out our Hypnos mattress reviews.
The reason I have decided to review the Hypnos Magnolia mattress is because it is part of the 'Hypnos Season Turn Collection'. The Seasons Turn mattresses have a summer side and a winter side which we will get into with this review.
What's inside the Hypnos Magnolia Seasons Turn Mattress?
This 2 sided turnable Hypnos Magnolia Seasons Turn mattress comprises:
ReActive™ 6 turn pocket springs
Wool on the warmer side
Cotton on the cooler side

Hypnos Magnolia Seasons Turn mattress finishing touches:
Chemical free Belgian damask mattress cover
Hand tufted
2 rows of hand side stitching
Flag stitched handles (4 on a single Hypnos mattress and 8 on a double Hypnos mattress and bigger)
16 air vents on a double Hypnos mattress and bigger
The Magnolia Seasons Turn mattress is available in a medium tension. Although a medium tension mattress we think it is the firmest of the Seasons Turn Hypnos mattress collection.

Information on all the upholstery fillings and springs can be found on our Hypnos bed & mattress product information page.
First thing to mention is the Magnolia divan bed comes with all the same benefits that any other Hypnos bed has to offer. There's 50+ great fabric choices to upholster your divan base in, any number of storage drawer combinations you could desire, an ottoman bed and the unique Hypnos hideaway bed. For me, storage is essential on any bed I buy. Having dead space under a bed is just not practical for me. Afterall who doesn't need more storage space? It's the perfect space to store spare duvets and pillows, bed linen or even shoes. And the great thing about a Hypnos storage divan is the standard drawers can handle up to 20kg. Upgrade to the Hypnos EasyStore divan base and these drawers hold up to 60kgs - Discontinued in September 2021.
Now to the Magnolia Seasons Turn mattress. In our showroom we have it paired with a sprung firm edge divan base, allowing this medium tension mattress to maximise its comfort. The benefit of the firm edge divan base is immediately apparent as I sit on the bed. The mattress depressed slightly but is supported by the timber frame in the divan base. After lying on it for a few minutes I feel that this mattress almost absorbs your body. It feels so comfy it's hard to get up again. There's a feeling of pure bliss, so I know this Hypnos mattress must be a winner as I am experiencing all of these feelings in the middle of our busy bed shop. The generous layers of upholstery provide great comfort and ensure there are no voids between my body and the mattress, in whichever position I lie in. This really could be my next bed. The sprung base allows airflow and helps heat to escape while the seasonal technology in the mattress plays a very important role. On the Summer side the cool cotton helps with temperature regulation and even in the showroom you can notice a neutral room temperature feel.
Flip the mattress over and you have the winter side. In Winter I'm like a hibernating bear. I like to be nice and warm in bed, without overheating. As I lie there, I can feel the layers of wool and alpaca are starting to hold that warmth which would make this a perfect Hypnos mattress for those cold Winter nights.
Which ever season is your favourite, the Magnolia Seasons Turn mattress has it covered, from the differing seasonal upholstery layers on each side to the individual pocket springs. The vents on the mattress create a 'bellow like' feature allowing warm air to be pushed out he mattress and fresh air sucked back in. This helps with a fresh sleeping surface and gives your mattress a better chance of longevity. Vents are used in all Hypnos mattresses I might add.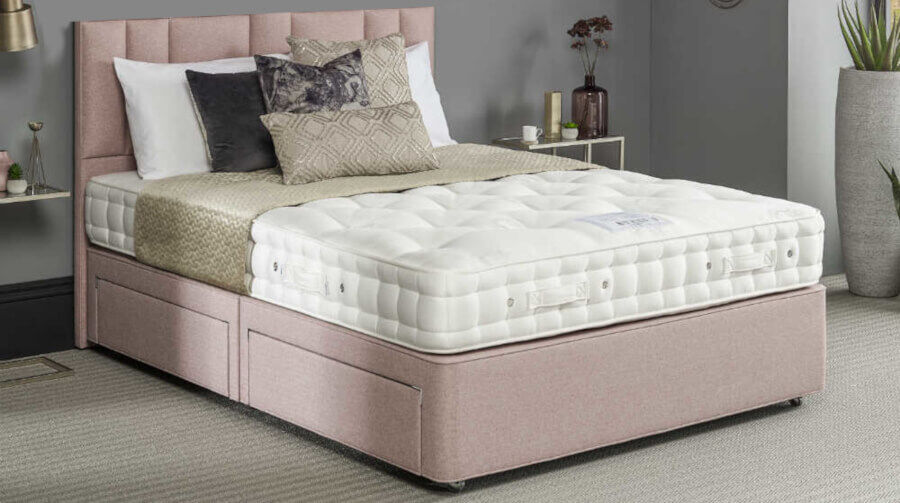 Which Hypnos divan base should I pair the Magnolia Seasons Turn mattress with?
For a gentler feel choose a Hypnos sprung divan base - recommended
Hypnos firm edge divan base
For a firmer more supportive feel choose a platform top divan base
Hypnos platform top divan base
Hypnos Hideaway bed
Hypnos ottoman bed
Hypnos EasyStore divan base - Discontinued in September 2021
Big Brand Beds Hypnos mattress review
Taking all things into account this bed really does punch above its weight for me. Paired with a Hypnos headboard, the Magnolia Seasons Turn bed will make a stunning centre piece in any bedroom. This is an extremely comfortable Hypnos bed and paired with a sprung firm edge divan base, this is one of the softer beds they make.
As there are several choices in this Hypnos mattress range you might ask:
What is the difference between the Hypnos mattresses in their Seasons Turn collection?
We're going to dive into some of the features that each mattress has to offer and help you decide which one will be best for you. Below we compare the three different king size mattresses in this collection.
Hypnos

Magnolia Mattress

Hypnos

Larkspur Mattress

Hypnos

Wisteria Mattress

Turnable

Seasonal turn mattress
Seasonal turn mattress
Seasonal turn mattress

Spring

Type

ReActive™ 6-turn

pocket spring

ReActive™ 7-turn

pocket spring

ReActive™ 8-turn

pocket spring

Rows of

Hand side stitching

2 rows

of genuine hand side-stitching

2 rows

of genuine hand side-stitching

3 rows

of genuine hand side-stitching

Summer

Fillings

Cotton
Cotton & Silk
Cotton & Bamboo

Winter

Fillings

Wool
Wool & Cashmere
Wool & Alpaca

Comfort level 1-9

(9 being the firmest)

Medium Feel
Medium Feel
Medium Feel

Comfort on a Hypnos

Sprung divan base

6
4
5

Comfort on a Hypnos

Platform top divan base

7
5
6

Mattress Cover

M:Pure™ damask cover
M:Pure™ damask cover
M:Pure™ damask cover

Flag stitched Handles

8
8
8

Air Vents

16
16
16

Woollen Tufts

32
32
32

Recylable

100% Recyclable
100% Recyclable
100% Recyclable

Guarantee

10 years
10 years
10 years
Why should I buy a Hypnos mattress?
This video should leave you in no doubt that a Hypnos mattress is one of the most comfortable mattresses in the world
Before you leave, if you found this article helpful would you mind sharing to your social media profiles. Thank you
Come and visit our bed shop in Burgess Hill, West Sussex to try out or range of Hypnos beds and Hypnos mattresses. Click here to get directions to our bed shop on Google maps. We are the best place to buy beds.
The X Section shown is indicative of, not the actual of the Magnolia Seasons Turn mattress.