Hypnos Mattress Review The Hypnos Larkspur Seasons Turn
This week I'll be reviewing the Hypnos Larkspur Mattress. This is part of their Seasons Turn collection and another great Hypnos pocket sprung mattress.
This week our Hypnos mattress review is the Larkspur Seasons Turn.
We have been selling mattresses at our local store for more years than I care to remember. In that time, we have learned a lot about mattresses and what makes a mattress great. We appreciate that there are lots of mattress reviews out there, but we thought we would offer a different perspective. We are not trying to sell you a mattress. Instead, we will provide a review of a mattress that we know a lot about, the Hypnos Larkspur mattress. Hypnos mattresses are designed for comfort, support, and longevity.
The Larkspur Seasons Turn mattress is available in a medium tension. Although a medium tension mattress we think it is the firmest of the Seasons Turn Hypnos mattress collection.
What's inside the Hypnos Larkspur Seasons Turn Mattress?
This 2 sided turnable Hypnos Larkspur Seasons Turn mattress comprises:
ReActive™ 7 turn pocket springs
Wool and cashmere on the warmer side
Cotton and silk on the cooler side

Hypnos Larkspur Seasons Turn mattress finishing touches:
Chemical free Belgian damask mattress cover
Hand tufted
2 rows of hand side stitching
Flag stitched handles (4 on a single Hypnos mattress and 8 on a double Hypnos mattress and bigger)
16 air vents on a double Hypnos mattress and bigger
The Larkspur mattress is a medium tension and we believ it is the softest of the seasons turn Hypnos pocket sprung mattress collection

Information on all the upholstery fillings and springs can be found on our Hypnos bed & mattress product information page.
The Larkspur is a traditionally made, naturally filled, pocket sprung mattress with seasonal sides and this week we are going to see why it is an important part of the range.
To the eye, it looks like many other Hypnos pocket sprung mattresses with 2 rows of side stitching, woollen tufts, flagged stitched handles and vents. Appearances can be deceiving and if you know Hypnos, then you will know this mattress has more to it.
The Hypnos Larkspur mattress in our bed shop is a single Hypnos mattress (90cm/3ft). Unfortunately, we don't have room to show 3 king size Hypnos mattresses in the seasons turn collection. A single mattress will feel slightly firmer than a double or king size. However, the Larkspur is best partnered with a Hypnos sprung divan base to provide the best possible comfort. The firm edge sprung divan base provides additional support to the side of the mattress when I sit on the bed. A firm edge sprung divan base has a timber frame surrounding the springs, so the edge is firm.
Being a single Hypnos mattress, I take up quite a lot of space on it. When I roll over towards the side of the bed the Larkspur holds its shape like a well formed mattress should. I do not feel that I am about to roll off the bed even though it is quite small for me. It has the type of feel that I would label as a 'suits all'. It is extremely comfortable, even at 11.00am. Carrying out mattress reviews is best done in the morning as we generally feel a little tired in the afternoon which brings the risk of a feeling of false comfort. That is certainly not the case with this Hypnos mattress. It is one of the best medium feel mattresses we have. That might sound strange, but every bed manufacturer has their own interpretation on how a medium mattress should feel, and this Hypnos pocket sprung mattress is text book medium to me. Although classed as a medium tension mattress we think this is the softest of the Seasons Turn Hypnos mattress collection.
Digging into this mattress's personality a little more shows signs of extreme professional craftsmanship. When you look closer at this mattress you keep seeing more for your money. The side vents allow air to flow through the pocket springs and wool and cashmere upholstery on the Warmer 'Winter' side and the cotton and silk on the summer side to keep the mattress fresh. I lay on this mattress on my side for longer than I should have, and the balance was perfect. I felt I had ample cushioning for my hip and shoulder and did not feel stuck in the upholstery. The 7 turn individually pocketed springs pushed up, doing their job of supporting me and making me feel at ease. This along with the super soft damask mattress cover made falling asleep on this mattress dangerously easy, even though it's 11.30am and in the middle of our showroom.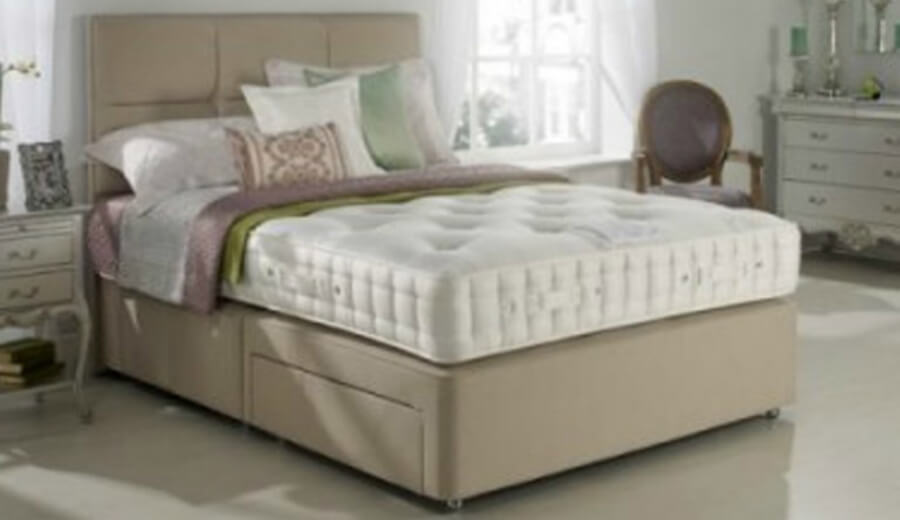 Which Hypnos divan base should I pair the Larkspur Seasons Turn mattress with?
For a gentler feel choose a Hypnos sprung divan base - recommended
Hypnos firm edge divan base
For a firmer more supportive feel choose a platform top divan base
Hypnos platform top divan base
Hypnos Hideaway bed
Hypnos ottoman bed
Hypnos EasyStore divan base - Discontinued in September 2021
Crown this bed with a euro slim Hypnos headboard for the perfect finishing touch.
Big Brand Beds Hypnos mattress review
My overall reflection on the Hypnos Larkspur Mattress is it's a perfect medium feel and extremely comfortable. You don't sink into it too much and you don't feel that it's too firm with no give. I don't believe it's a mattress that will take too much time to get used to. But do not take my word for it, come in and try it for yourself.
As there are several choices in this Hypnos mattress range you might ask:
What is the difference between the Hypnos mattresses in their Seasons Turn collection?
Below we compare the three different king size mattresses in this collection.
Hypnos

Magnolia Mattress

Hypnos

Larkspur Mattress

Hypnos

Wisteria Mattress

Turnable

Seasonal turn mattress
Seasonal turn mattress
Seasonal turn mattress

Spring

Type

ReActive™ 6-turn

pocket spring

ReActive™ 7-turn

pocket spring

ReActive™ 8-turn

pocket spring

Rows of

Hand side stitching

2 rows

of genuine hand side-stitching

2 rows

of genuine hand side-stitching

3 rows

of genuine hand side-stitching

Summer

Fillings

Cotton
Cotton & Silk
Cotton & Bamboo

Winter

Fillings

Wool
Wool & Cashmere
Wool & Alpaca

Comfort level 1-9

(9 being the firmest)

Medium Feel
Medium Feel
Medium Feel

Comfort on a Hypnos

Sprung divan base

6
4
5

Comfort on a Hypnos

Platform top divan base

7
5
6

Mattress Cover

M:Pure™ damask cover
M:Pure™ damask cover
M:Pure™ damask cover

Flag stitched Handles

8
8
8

Air Vents

16
16
16

Woollen Tufts

32
32
32

Recylable

100% Recyclable
100% Recyclable
100% Recyclable

Guarantee

10 years
10 years
10 years
Why should I buy a Hypnos mattress?
This video should leave you in no doubt that a Hypnos mattress is one of the most comfortable mattresses in the world
Before you leave, if you found this article helpful would you mind sharing to your social media profiles. Thank you
Come and visit our bed shop in Burgess Hill, West Sussex to try out or range of Hypnos beds and Hypnos mattresses. Click here to get directions to our bed shop on Google maps. We are the best place to buy beds.
The X Section shown is indicative of, not the actual of the Larkspur Seasons Turn mattress.