Hypnos Mattress Review The Hypnos Alvescot Pillow Top
Buying a mattress is a big decision and one that should be made with care and consideration. If you're in the market for a new mattress, you've likely found yourself wondering which one to choose. Comfort, support and price are just a few of the factors to consider when purchasing a new bed. We're here to help you consider all of the important factors and make the right decision for you and we hope this Hypnos mattress review will help.
This week our Hypnos mattress review is the Alvescot Pillow Top.
For a couple of years now I have been disappointed with Hypnos, as they discontinued my favourite mattress the Alto Pillow Top. It was brilliant pillow top mattress. It was a retail like for like version of the Premier Inn mattress, and the new Alvescot Pillow Top is by far the closest they have come to replicating it, and that excites me. The Astral which replaced the Alto was a much firmer mattress and certainly didn't have the comfort of the Premier Inn mattress.
Now this mattress looks different to the traditional Hypnos mattresses we have on display in our bed shop. The cover has got a natural colour to it with a slight fleck, as opposed to the crisp white or ivory covers. This is due to Hypnos's sustainability and eco commitments. The cover is unbleached organic natural cotton and the look is a key part of Hypnos moving forward and understanding people's needs and wants. I mean the more natural a bed is, the better your body will pair with it.
What's inside the Hypnos Alvescot Pillow Top Mattress?
This single sided no turn Hypnos Alvescot Pillow Top mattress comprises:
ReActivePro™ 6 turn pocket springs
Wool
Cotton
Solotex
Triple edge protection - the three outer rows of springs down the side of the mattress use a firmer gauge wire
Flat perimeter wire for additional side support
Information on all the upholstery fillings and springs can be found on our Hypnos bed & mattress product information page.

Hypnos Alvescot Pillow Top mattress finishing touches:
Chemical free unbleached cotton mattress cover
Hand tufted
2 rows of hand side stitching
Flag stitched handles (4 on a single Hypnos mattress and 8 on a double Hypnos mattress and bigger)
16 air vents on all double Hypnos mattresses and larger sizes
The Alvescot Pillow Top mattress is available in one tension which is medium comfort

Sitting on the mattress, it was immediately evident that this was a softer Hypnos mattress, which in my opinion they need in their collection. I sunk into the deep layers of upholstery, but the edge of the mattress held up well. As the mattress is generally paired with an open coil firm edge divan base for additional comfort, it has additional edge support in the base.
I've waited over a year to try this new Hypnos pillow top mattress and when I lay back, oh my, it did not disappoint. The luxurious pillow top, the comfort, the spring, I don't know what it was, but it felt pure bliss. It felt like the relaxation you get during a good spa. I really couldn't believe that I could feel so comfortable and relaxed so quickly. It felt like the ideal mattress for a side sleeper, but I was surprised at just how comfortable and supportive it was when i was lying on my back.
I have stayed in hotels with very expensive suites and not one had a mattress that felt like this. They always tend to feel a bit firmer. This pillow top mattress feels like a cloud. 2 kilos of pure British wool is a tell tale sign that it wasn't going to feel hard but there are few words that describe the level of comfort I had. This is good news as the most important thing about a mattress is that it is comfortable. Without a comfortable mattress, you will not enjoy a good night's sleep. This can cause you to be tired and sleepy during the day, which can affect your work performance.
Not all things are as they seem in this world, this Hypnos mattress looks like the goliath of mattresses in our showroom. It dominates the space it sits in and looks like it needs several people to move it. However, when you sit or lay on it, you can tell it that it doesn't. It's delicate mattress waiting to give you hours upon hour of supportive, comfortable, effortless sleep.
I would go as far to say that even sitting on this mattress is preferable to many sofas I've tried. It really does tick so many boxes, British made with the filling being traceable through the red tractor assured farms. The individually pocketed hand nested springs will give your body ample support for 3650 nights, which is the guarantee period. And like all Hypnos mattresses and beds the Alvescot hand made to order by highly skilled craftsmen.
What are the benefits of a Hypnos Alvescot Pillow Top mattress
A Hypnos Alvescot pillow top mattress is a high-end mattress that offers several benefits to the sleeper. Here are some of the key reasons why a Hypnos pillow top mattress is a good choice:
Comfort: The pillow top layer provides a soft and comfortable surface to sleep on, while the individual pocket springs conform to the contours of your body to provide individual support.
Support: The pocket springs in the mattress are designed to absorb movement and distribute weight evenly, helping to reduce pressure points and promote better alignment.
Durability: Hypnos is a well-established brand with a reputation for producing high-quality mattresses that are built to last.
Motion isolation: The individual pocket springs help to absorb movement and minimize transfer from one side of the bed to the other, making the mattress ideal for couples who want to minimize sleep disruptions caused by their partner's movements.
Health and wellness: Hypnos is committed to using high-quality, natural materials in its mattresses, which can help to reduce the risk of allergies and other health issues.
Quality of sleep: The comfort and support provided by the mattress can help to improve the quality of your sleep, leaving you feeling refreshed and rejuvenated when you wake up in the morning.
Overall, a Hypnos pillow top mattress is designed to provide a comfortable, supportive and healthy sleeping surface, making it a great choice for those who want the best in mattress quality and performance.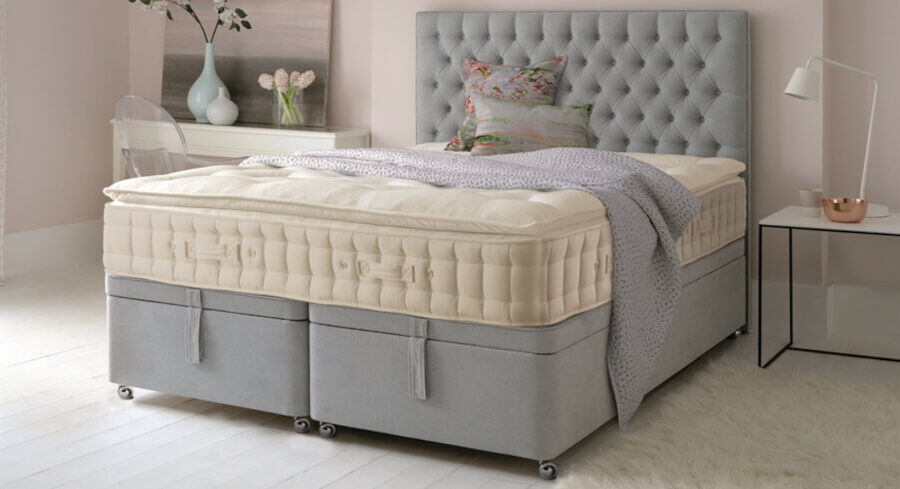 Which Hypnos divan base should I pair the Alvescot Pillow Top mattress with?
For a firmer more supportive feel choose a platform top divan base
Hypnos platform top divan base
Hypnos Hideaway bed
Hypnos ottoman bed - pictured above
Hypnos EasyStore divan base - Discontinued in September 2021
For a gentler feel choose a Hypnos sprung divan base
Hypnos firm edge divan base
The open coil firm edge divan base is the natural pairing with the Alvescot mattress for a gentle feel.
The deep divan whether platform top or firm edge sprung has further finishing touches which include a great choice of storage drawers. They can also be custom made to your specification, higher, lower, longer, shorter or wider. Hypnos beds are a truly bespoke option. To finish your Hypnos divan base there is a great range of fabrics to upholster it in.
What better way to finish your bed, than a Hypnos headboard? Setting the mood is easy with the right headboard. Whether you're looking to go bold and eye-catching or prefer a more subdued colour palette, we have a wide variety of Hypnos headboards and upholstery fabrics to choose from. With our different finishes and textures, there are so many fabric combinations to choose from. Let your creativity and imagination run wild and see where it takes you.
Big Brand Beds Hypnos mattress review
This is the softest Hypnos pillow top mattress. To me, the Hypnos Alvescot Pillow Top Mattress screams everything we do well in this country, and this is my 'best of British mattress'. So comfortable and supportive, it's no wonder that a similar version is used in so many leading hotels.
As there are several choices in this Hypnos mattress range you might ask:
What is the difference between the Hypnos Pillow Top mattresses?
To make your search for the perfect Hypnos mattress easier, we've put together this handy comparison of the three king size mattresses in the collection. You'll find information on their materials, features, and prices so you can make the right choice.
Hypnos

Alvescot Pillow Top Mattress

Hypnos

Saunderton Pillow Top Mattress

Hypnos

Walbury Pillow Top Mattress

Turnable

No turn mattress
No turn mattress
No turn mattress

Spring

Type

1200 ReActivePro™ 6-turn

pocket spring

1200 ReActivePro™ 6-turn

pocket spring

1500 ReActivePro™ 6-turn

pocket spring

Rows of

Hand side stitching

2 rows

of genuine hand side-stitching

2 rows

of genuine hand side-stitching

3 rows

of genuine hand side-stitching

Natural

Fillings

1200g Solotex, 2.1kg Wool, 1.8kg Cotton, 2.7kg Cotton
1200g Solotex, 3kg Wool, Adaptiv™ springs, 2.7kg Cotton
1200g Solotex, 2.1kg Wool, Adaptiv™ springs, Talalay Latex

Comfort level 1-9

(9 being the firmest)

Based on one tension
Based on one tension
Based on one tension

Comfort on a Hypnos

Sprung divan base

4
6
5

Comfort on a Hypnos

Platform top divan base

5
7
6

Mattress Cover

Unbleached cotton cover
Unbleached cotton cover
Unbleached cotton cover

Flag stitched Handles

8
8
8

Air Vents

16
16
16

Woollen Tufts

32
32
32

Recylable

100% Recyclable
100% Recyclable
100% Recyclable

Guarantee

10 years
10 years
10 years
Why should I buy a Hypnos mattress?
This video should leave you in no doubt that a Hypnos mattress is one of the most comfortable mattresses in the world
Before you leave, if you found this article helpful would you mind sharing to your social media profiles. Thank you