Hypnos Mattress Review The Hypnos Adagio Supreme
Hypnos, the most comfortable beds in the world is a massive claim. However, once you've read about the Hypnos Adagio Supreme mattress and visited our bed shop to try it, you will be hard pushed not to agree.
This week our Hypnos mattress review is the Adagio Supreme.
You've probably heard of Hypnos beds. If not, you're in for a treat. We've been selling them for over a decade, and they are some of the most comfortable beds on the market. If you're anything like us, then you're constantly searching for the perfect mattress. After all, there's nothing better than a good night's sleep. Unfortunately, finding the perfect mattress can be a challenging and frustrating process, but the Hypnos Adagio Supreme might just tick some boxes.
Hypnos mattresses are all designed to be luxurious, comfortable, and supportive. They are made from the highest quality materials and are 100% natural. A Hypnos mattress will provide the sleep you need to wake up feeling refreshed and energized.
The first thing you notice about the Hypnos Adagio Supreme bed is how striking it looks. It's like a Ferrari in a car showroom, it wants to own the room. With the lush, skirted divan base, without storage drawers it gives the most stylish of looks. Paired with a Hypnos Euro Slim Harriett headboard, it stands tall and proud in our bed shop, looking so inviting you can't just pass by without seeing what it's like to lie on.
What's inside the Hypnos Adagio Supreme Mattress?
This no turn Hypnos Adagio Supreme mattress comprises:
ReActive™ 8 turn pocket springs
Camel wool
Wool
Alpaca
Talalay latex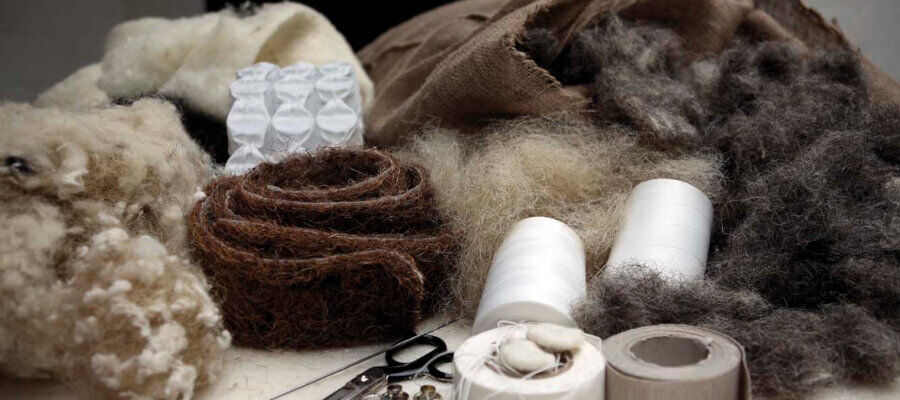 Hypnos Adagio Supreme mattress finishing touches:
Chemical free Belgian damask mattress cover
Hand tufted
3 rows of hand side stitching
Flag stitched handles (4 on a single Hypnos mattress and 8 on a double Hypnos mattress and bigger)
16 air vents on a double Hypnos mattress and bigger
The Adagio Supreme mattress is available in a medium and firm tension
Information on all the upholstery fillings and springs can be found on our Hypnos bed & mattress product information page.
Now onto the main event, the mattress. It just looks like the type of Hypnos mattress that Hypnos Contract Beds supply to some of the world's leading international hotel groups, independent boutique hotels, lifestyle hotels and private members' clubs. I can imagine this as a stunning Hypnos emperor bed in a 5-star celebrity exclusive suite. This is certainly not the Hypnos mattress used by the Premier Inn.
This most luxurious Hypnos mattress is hand side stitched with 3 row of stitching, hand tufted and has so much filling you just want to jump on it and settle in. The luxurious wool damask mattress cover is so soft and silky to touch.
Sitting on the mattress in readiness to lie down, I am conscious that even though it is on a firm edge pocket divan base, the sides don't collapse under my weight. Lying down, it very quickly becomes evident that It's comfort and body support is wonderful and makes you feel so welcomed. Whichever way I lay, which in my own bed is normally on my back, then on to my front and finally the foetal position it is extremely comfortable and supportive. The generous layers of camel wool, alpaca, wool and latex upholstery really do provide exceptional comfort. The Adagio Supreme really is a big Hypnos mattress that feels like it will last a lifetime. Not only does it look like a Hypnos contract bed in a leading hotel, it feels like one, even in our Hypnos showroom! All it's lacking is a big pile of fluffy pillows. Don't be put off by the fact I describe it as a big mattress. It is, but another of its great benefits is it is a single sided no turn mattress.
The Hypnos Adagio Supreme is definitely a bed you would stop and look at and be tempted to try. The very look of it might make you think it might be out of your price range. However, with the current Hypnos bed sale offers we have like king size for price of a double and single mattresses starting at £1699 it becomes a realistic option. It's backed by a full 10 year guarantee, from a family-run British company that have been manufacturing beds and mattresses for over 100 years.
As with all Hypnos beds for sale, there are multiple storage options including drawers, ottoman beds and the clever Hypnos hideaway storage base. The Adagio Supreme bed can also be custom made to your specification, higher, lower, longer, shorter or wider. Hypnos beds are a truly bespoke option with a great range of fabrics to upholster your Hypnos divan base in. From traditional to contemporary, we have an upholstery fabric to suit every taste. Browse through our fabric library to see what we have to offer, and start dreaming up your new bed. Complete your bed with a luxurious matching Hypnos headboard.
This bed needs to be seen as an investment into your health and well-being. We spend on average 7 hours in bed, so make it as rewarding and comfortable as possible. Rejuvenate your body and relieve stress. Start each day with a Hypnos 8 turn spring in your step by waking up on the Adagio Supreme mattress.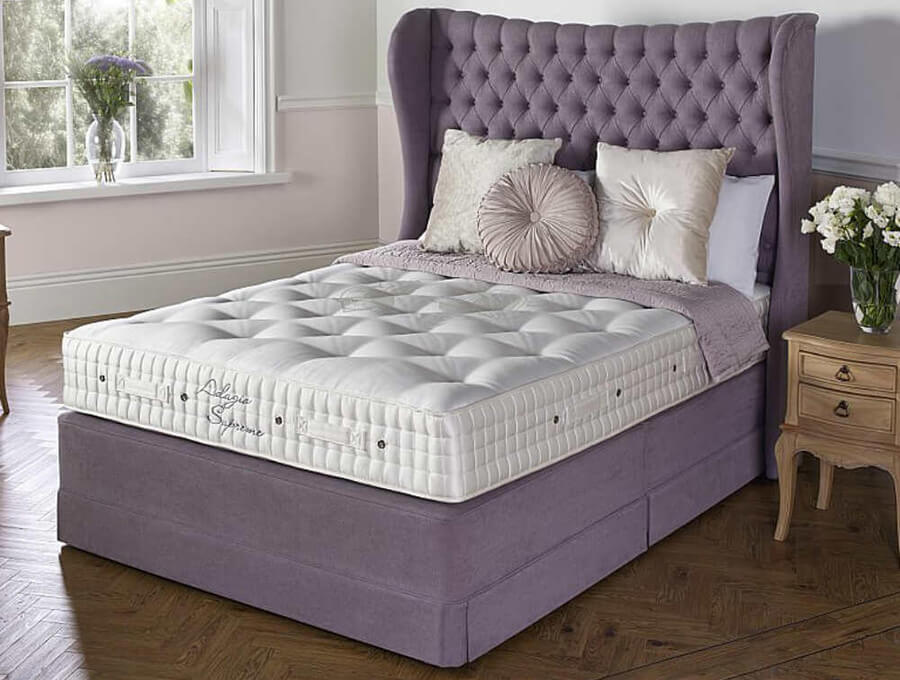 Which Hypnos divan base should I pair the Adagio Supreme mattress with?
For a gentler feel choose a Hypnos sprung divan base
Hypnos firm edge divan base
For a firmer more supportive feel choose a platform top divan base
Hypnos platform top divan base
Hypnos Hideaway bed
Hypnos ottoman bed
Hypnos EasyStore divan base - Discontinued in September 2021
As there are several choices in this Hypnos mattress range you might ask:
What is the difference between the Hypnos Adagio mattresses?
To make your search for the perfect Hypnos mattress easier, we've put together this handy comparison of the three king size mattresses in the collection. You'll find information on their materials, features, and prices so you can make the right choice.
Hypnos

Adagio Mattress

Hypnos

Agadgio Supreme Mattress

Hypnos

Adagio Sublime Mattress

Turnable

No turn mattress
No turn mattress
No turn mattress

Spring

Type

ReActive™ 8-turn

pocket spring

ReActive™ 8-turn

pocket spring

UltraSens 14-turn

zoned pocket spring

Rows of

Hand side stitching

3 rows

of genuine hand side-stitching

3 rows

of genuine hand side-stitching

3 rows

of genuine hand side-stitching

Natural

Fillings

Wool, Bamboo, Cashmere & Talalay Latex
Camel Wool, Wool, Alpaca & Talalay Latex
Wool, Silk, Alpaca & Talalay Latex

Comfort level 1-9

(9 being the firmest)

Based on the Medium Feel
Based on the Medium Feel
Based on the Medium Feel

Comfort on a Hypnos

Sprung divan base

5
6
4

Comfort on a Hypnos

Platform top divan base

6
7
5

Mattress Cover

Wool damask cover
Wool damask cover
Wool damask cover

Flag stitched Handles

8
8
8

Air Vents

16
16
16

Woollen Tufts

32
32
32

Recylable

100% Recyclable
100% Recyclable
100% Recyclable

Guarantee

10 years
10 years
10 years
Big Brand Beds Hypnos mattress review
A Hypnos mattress is a luxury bed made from the highest quality materials. Hypnos mattresses are made to last a lifetime and are designed for maximum comfort. The Adagio Supreme is so comfortable and supportive. The medium tension mattress feels as if it would be suitable for just about everyone, but to cover all bases this Hypnos mattress is also available in a firm tension.
Why should I buy a Hypnos mattress?
This video should leave you in no doubt that a Hypnos mattress is one of the most comfortable mattresses in the world
Before you leave, if you found this article helpful would you mind sharing to your social media profiles. Thank you