Dunlopillo Review The Dunlopillo Adjustable Bed
This is the perfect time for a Dunlopillo adjustable bed review as I have recently spent the night on one. Paired with a Dunlopillo Celeste mattress this was one comfortable bed.
This week our Dunlopillo review is the adjustable bed base.
You can feel the sprung birch wood slats working to give perfect support to your body. But a great benefit is you can alter the tension of the slats in the lumbar region by using the clever comfort adjusters to create the perfect feel for your weight. This adjustable bed base is the perfect foundation for any Dunlopillo mattress.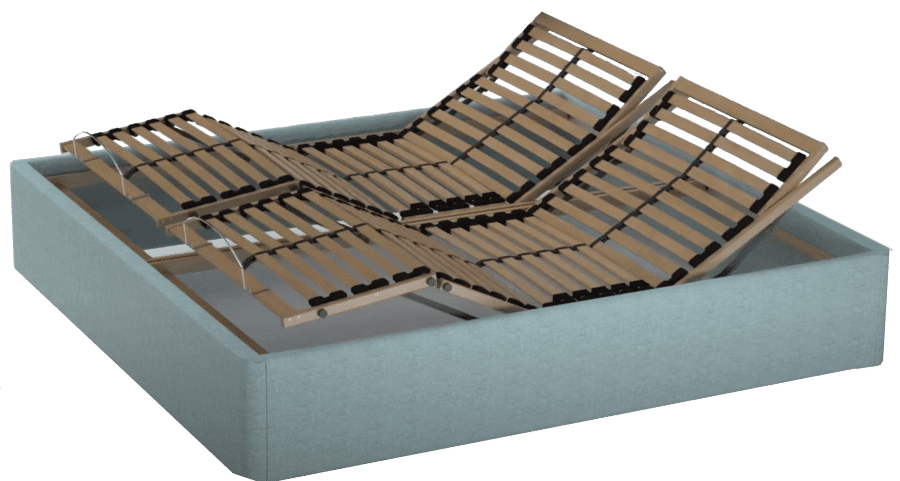 To really appreciate an adjustable bed, you need to spend a night on one and I'm lucky enough to have done just that. In the showroom you don't appreciate the subtleties of the adjustment of the position you are lying in. I thought watching TV in bed was just a case of grabbing the remote and raising the head end until I was in a position similar to the one I'm in when using pillows to prop me up in my own bed. How wrong I was. For the perfect viewing position and comfort, I needed to raise the foot end slightly. This gave much more support to my legs and a greater feeling of relaxation. Perfection, I was able to enjoy my film to the full in the utmost comfort.
When it came to sleep time, I did away with one pillow and raised the head end slightly. I have to say it was one of the best night's sleep I have had. A little adjustment to the height of the head end in the middle of the night was easy. The remote-control unit incorporates a useful torch. And I didn't need to disturb my wife as each side of the adjustable bed has its own remote control. I could seriously consider a Dunlopillo adjustable bed as my next bed. But that's not likely to be for a while yet. My Dunlopillo Royal Sovereign is 25 years old and still as good as new.
The Celeste mattress is the firmer of the two 21cm latex mattresses. As mentioned previously, I have slept on a Dunlopillo Royal Sovereign bed for 25 years which is the medium 21cm latex mattress. This is ideal for side sleepers like me. However, with the comfort adjustors I was able to find the perfect level of support whilst on the Dunlopillo Celeste mattress.
What's inside the Dunlopillo Celeste Mattress?
This no turn single sided Dunlopillo Celeste mattress comprises:
3 layers of breathable, responsive latex

Soft comfort layer
160mm 100% pure Dunlopillo latex core
Additional comfort layer

7 comfort zones

Dunlopillo Celeste mattress finishing touches:
Removable mattress cover
Plus mattress cover developed with innovative cooling technology
Naturally anti-allergenic, anti-bacterial and anti-microbial
Treated with our Actipro™ technology
The Dunlopillo Millennium mattress is available in a medium tension

Information on all the fillings can be found on our Dunlopillo bed & mattress product information page.
What is the best Dunlopillo mattress to put on an adjustable bed base?
I have always had a slight concern that the deeper Dunlopillo mattresses might struggle a bit on the adjustable bed base which is the reason we show the Diamond and Firmrest mattresses on ours. My fears were unfounded. The natural resilience of latex really comes into its own and I now have every confidence in putting a Millennium or Orchid mattress on an adjustable base. With a cushioned comfort layer the 21cm and 24cm latex mattresses are better suited to side sleepers, particularly the Royal Sovereign and Millennium which have a medium comfort level. If you are a back sleeper, I would recommend the Diamond and Firmest 18cm latex mattresses and Celeste and Orchid.
Big Brand Beds Dunlopillo mattress review
I woke in the morning having enjoyed an excellent night's sleep. It's great to know that Dunlopillo are still making the same great latex mattresses that they did in 1996. For exceptional health benefits including relief from shoulder pains you can't go wrong with a Dunlopillo mattress.
Before you leave, if you found this article helpful would you mind sharing to your social media profiles. Thank you