Dunlopillo Mattress Review The Dunlopillo Orchid
Well what a week its been, rain, snow and now we have a weekend hotter than the Med! And with all that we've been setting up our brand new Dunlopillo bed display. Not even 24 hours of having them here in our showroom and they're getting lots of attention. It seems only right to review one, so I have chosen the model that was our first sale.
This week my Dunlopillo mattress review is the Orchid.
Dunlopillo make pure latex mattresses from the rubber tree, one of the most eco-friendly mattress fillings available. This process takes unprecedented effort and patience. One rubber tree would take 500 days to provide the sap needed to make a single Dunlopillo mattress. Perfecting comfort takes time.
What's inside the Dunlopillo Millennium Mattress?
This no turn single sided Dunlopillo Orchid mattress comprises:
3 layers of breathable, responsive latex

Premium comfort layer
160mm 100% pure Dunlopillo latex core
Additional support layer

7 comfort zones
Information on all the fillings can be found on our Dunlopillo bed & mattress product information page.

Dunlopillo Orchid mattress finishing touches:
Removable mattress cover
Plus mattress cover developed with innovative cooling technology
Naturally anti-allergenic, anti-bacterial and anti-microbial
Treated with our Actipro™ technology
The Dunlopillo Orchid mattress is available in a firm feel

The king size Dunlopillo Orchid bed in our showroom is perfect for allowing me to spread out like a starfish. Before even trying the bed I must say it's very aesthetically pleasing with a two-toned soft touch cover that gives it a modern/sleek look. I would almost feel ashamed to put sheets over it.
After trying this Dunlopillo bed I felt supported but not to a degree where I would say this mattress was right for me. I have a slender build and this mattress is rated as 'Firm'. Initially, I didn't feel as comfortable as I would have liked, the mattresses felt too firm around my hips. You might immediately think that the medium feel Millennium mattress would be right for me. But no, Dunlopillo have been very clever in using adjustable slats to cater for differing levels of support and comfort. I adjusted the centre slats which have sliding adjusters to increase or decrease the tension you feel through the mattress It was pre-set to the firmest possible tension. No wonder it felt too firm for me. I must admit I was slightly dubious about how much difference this could make to the overall feel. After making the adjustments and laying back down, I became aware that it made quite a noticable difference to the support it gave me. I started to feel more relaxed and loose, allowing me just lay there and take in all the bed was offering. Even though there are no springs in the mattress it is supporting each part of my body differently. Now this is because the mattress has 7 zones of comfort, softer zones around the shoulders, hips and heels but firmer zones for supporting the spine. This is clever. All the pointy bits of my slim body are moulding to the softer zones without compromising my spine. Unlike some mattresses, although the Dunlopillo Orchid moulds to my body, I feel it is very easy to move on. I am conscious that when I move the rest of the mattress remains still, a bonus for my partner.
Best of all my partner prefers a firmer tensioned bed compared to me so without the hassle of compromising we can just adjust our own slats to the tension we prefer. And it doesn't matter what position she sleeps in, a Dunlopillo mattress is ideal for any position.
One thing that is always on our mind when buying a new bed or just mattress is heat. Summer is here now 'I hope' and there is nothing worse than waking up or even worse not being able to get to sleep because your are overheating. Dunlopillo mattresses are pure latex but due to the way they are made with millions of microscopic air bubbles, and air holes. This allows constant air circulation so as you move in the night the mattress is basically breathing, allowing for a comfortable temperature to sleep. This is maximised by the Dunlopillo divan base options. Their bases only consist of slatted or sprung as this allows air flow to the highest level possible. Although not advised they can go on platform top divan bases, but they must have holes in the surface to allow the latex mattress to breathe.
My personal choice if I was to buy a Dunlopillo Orchid Bed would be a 180cm / super king size, on a slatted base for the added option of slat tensions. With the multiple zones, breathability and unrivaled top quality feel this bed delivers everything I could want.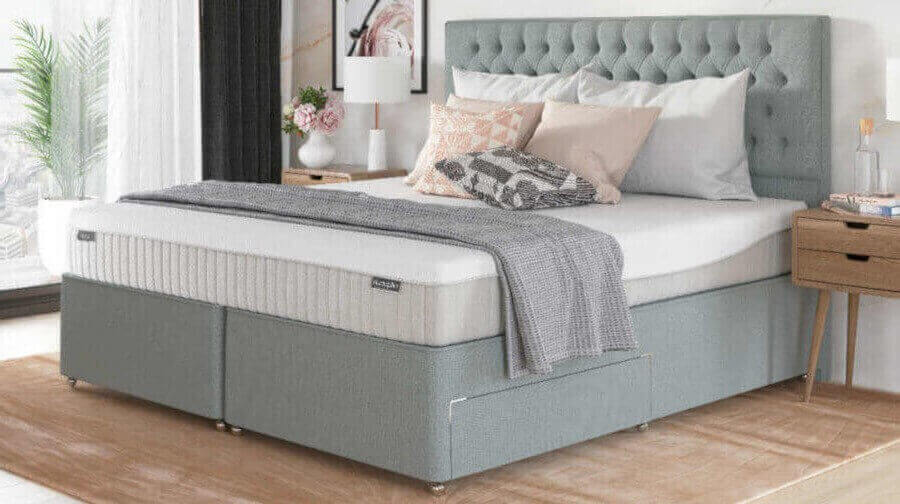 Marks Dunlopillo mattress review
My final analysis for the Dunlopillo Orchid is this isn't the cheapest bed you can buy but BMW or Mercedes aren't the cheapest cars you can buy. We all enjoy top quality items, big TV's, the latest phones etc. As you spend one third of life in your bed it leaves you thinking, why not. The Orchid is certainly worth saving up for.
Before you leave, if you found this article helpful would you mind sharing to your social media profiles. Thank you
Originally reviewed 29 April 2016