What's the Best Mattress Type Out There?
Mattress shopping can be confusing, especially when there are so many different types of mattress on the market. It can be incredibly over-whelming, leading to many of us deciding not to bother and sticking with our old mattress. But don't let mattress fear stop you from getting that perfect night's sleep associated with a high-quality mattress.
First things first, get to know the different types of mattress, so that you'll be able to see both what mattress appeals to you and what one will suit your needs most. Here are some of the most common types on the market:
Pillow Top Mattress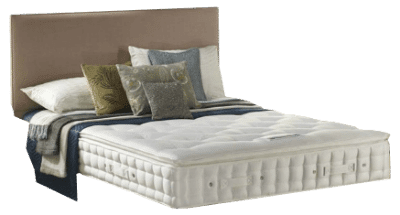 A pillow-top mattress is a mattress that can be made from any material, but the main difference is that the mattress will have a pillow-top that is stitched directly onto the top of the mattress to provide extra comfort. Although these mattresses can feel very luxurious, keep in mind that you can get a 'pillow-top' feel by simply adding a mattress topper to any regular mattress. Our choice is the Hypnos Alto Pillowtop mattress (pictured) which has a topper crammed full of wool.
Latex Mattress
Natural latex is favoured by those who suffer from allergies due to its natural anti-allergen qualities. A solid core mattress, latex is very durable and returns to shape incredibly quickly. Unlike other foam mattresses though, latex doesn't retain heat making it a great mattress in summer. You can't go wrong with the Dunlopillo Royal Sovereign mattress. 21cm of pure latex and a Which? Best Buy.
Memory Foam
One of the most popular mattress types on the market, memory foam was originally developed by NASA and is liked for the way the foam contours to a person's body while they sleep. Not only does this provide comfort, but it's also useful for couples as when one person moves this movement is absorbed so the other is less likely to be woken up. We particularly like the hybrids which incorporate a layer of memory foam on a sprung mattress. The Sealy Burley Memory mattress represents outstanding value for a mattress of this quality
Open Coil Mattress
Generally, open coil mattresses are very common on the market, being one of the most traditional methods of mattress production. The mattress itself consists of an inter-connected spring system. Open coil mattresses are known for providing excellent support, so are often used recommended for back pain sufferers. These mattresses aren't as long lasting as other types, and occasionally dip in the middle after years of use.
Pocket Sprung Mattress
A pocket sprung mattress will give you more support than an open coil mattress as each spring is housed in a pocket, making them more flexible. For the most support and comfort choose the mattress with the highest spring count. These are also optimal for couples, as these independent pockets mean you won't give you that 'rolling together' feeling. Our Hypnos Adagio Supreme mattress is one of the most luxurious mattresses you will sleep on.
Hybrid Mattress
A hybrid mattress will contain both a coil support system, but it will also be matched with another material such as latex, memory foam or gel. This can be beneficial as you can combine the pros of certain mattress types together to create the best mattress for you – especially if you're part of a couple that have different needs. These hybrid mattresses can be found in varying levels of firmness. The combination of pocket springs and latex makes the Silentnight Kingham Latex Supreme mattress extremely comfortable. It's a great price, so no wonder it's our best selling Silentnight mattress
Ultimately, the mattress type you go for is completely up to you. A latex mattress might be perfect for one person will a pocket mattress is wonderful for another. To fully find the mattress for your needs, you should list the problems you have with your current mattress and from that see what new type would solve these problems. You should also aim to go and 'test' a mattress to see if it feels comfortable to your body. If you're still feeling confused, get in touch! We can help guide you through any worries or questions that you may have. Or better still, visit our showroom at 6 Keymer Road, Burgess Hill, West Sussex, RH15 0AD
All items detailed are subject to change