Warm Goose Down Duvets – Die Zudecke, best prices

If you ever needed a 13.5 TOG Goose Down Duvet, now is the time. I can guarantee the Die Zudecke Canadian White Snow Goose Down Duvet will keep you supremely warm in these icy cold conditions.
In Sussex we had plenty of snow fall on Friday. It eased up on Saturday and then returned with a vengance on Sunday morning.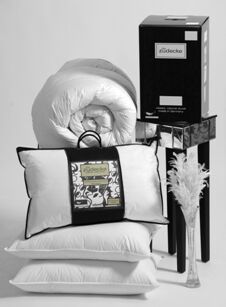 Being a Sunday, it wasn't a problem staying in bed longer than normal, afterall the children don't have to go to school. And being snuggled up securely under our 13.5 TOG Die Zudecke Canadian White Snow Goose Down Duvet, there really was no incentive to get out of bed, until I was asked to go and make a cup of tea!
Goose down is a wonderfully light duvet filling with outstanding insulation properties and you don't feel trapped under it. The clusters of soft fluffy down trap the warmth the body produces and maintains a luxurious sleeping environment.
The cassette construction of the casing ensures the goose down stays in place evenly across the duvet so there are no cold spots.
The 310 thread count cotton cambric cover is luxurious to the touch, which you would expect of a high quality product manufactured in Germany.
Mrs L from County Durham emailed me on Thursday to say of her Canadian White Snow Goose Down Duvet "Many thanks for sending our duvet. Last night we had a blissful night's sleep. This morning I didn't want to get out of bed! I would certainly recommend your company and your good advice re duvets."
Join our many customers enjoying fabulous sleep by buying a Die Zudecke Canadian White Snow Goose Down Duvet today. You won't ever regret it, and it comes with a 10 year guarantee and can be delivered to you within 48 hours. How's that for service?