The New Sherborne Dorchester Adjustable Bed

Sherborne, our biggest supplier of upholstery, settees, sofas, chairs and more have introduced a fabulous new electrically adjustable bed to the range. It's called the Dorchester and we believe it is one of the finest, if not the finest adjustable bed on the market.
Piloted at a few stores during the back end of 2012, the Sherborne Dorchester adjustable bed was given its official launch at the Interiors UK 2013 show in Birmingham.
Sherborne are the leading British manufacturer of electric lift and rise recliner chairs, so it is no surprise they have ventured into the bed market with a truly great product.
Using a specially developed new action, these are probably the strongest adjustable beds available anywhere with a weight limit of 25 stone and come with a 5 year guarantee on all electrical components, actions and frames.
The dual motor control gives independent adjustment for the upper and lower body and is operated by a handset that is backlit, so easy to use in the dark. It also has a useful memory setting so you can return to your favourite position.
The adjustable base comes with fully upholstered storage drawers as standard and is available in 3 fabric colours, Acapulco Brown, Acapulco Fawn and Acapulco Grey.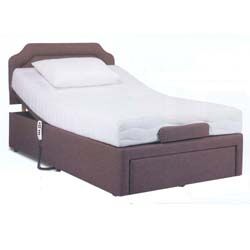 There are 2 mattress options which both have the benefit of a cool max cover. This helps alleviate overheating issues the sleeper might have. The deluxe mattress is made from a supportive layer of reflex foam onto which a layer of pressure relieving memory foam is laid.
The Supreme mattress is the same as the Deluxe, but also includes an additional layer of latex foam to give a slightly softer feel and even more temperature control.
Both mattresses are specially designed for adjustable beds and are available in a choice of medium or firm mattresses.
The Sherborne Dorchester adjustable bed is available in a variety of sizes, all of which are 6'6" (200cm) long.
2'6" x 6'6" one piece set
3'0" x 6'6" one piece set
4'0" x 6'6" one piece set
5'0" x 6'6" linked set
6'0" x 6'6" linked set
To compliment these wonderful adjustable beds, there are 2 headboards, the Emily or the Isobel, which are available in all 3 fabrics to match the divan base.
View the Sherborne Dorchester adjustable bed online today.