Strong Beds for the Obese & Big People
If you are looking for a strong bed frame / heavy duty bed frame that is stylish and fashionable, keep reading.

As a nation we are getting bigger and lockdown hasn't helped us. Stuck at home with the temptation to snack, the pounds just keep piling on. We're getting fatter and fatter. We're a nation of snoring, tossing, turning, sleep deprived, overweight people that are needing a good supportive strong beds. Our strong Beds are the solution for the obese. They are built to hold up to 65 stone / 412kgs and are designed to be used in a standard home.
The word obese conjures up images of unhealthy big people, which in some cases is true. However, many people with a BMI (Body Mass Index) of over 30, the level at which people are categorised as clinically obese are big fit people. You only need to look at rugby players.
Big people need beds for heavy people and Big Brand Beds can help. We have a great range of strong bed frames that have all been weight certified. The bed frames have undergone rigorous testing in accordance with regulations laid down in LOLER (Lifting Operations & Lifting Equipment Regulations). They have been tested to hold 300kgs, 47 stone.
So which is the best bed frame for a heavy person? We've got a great choice of strong beds which include wooden and metal bed frames. If you need an extra strong bed then check out the wrought iron collection
Reinforced Wooden bed frames
There are 3 wooden bed frames, all made from solid oak with a steel frame, discreetly hidden behind the side rails. They are made to the highest quality with dovetail joints and are without doubt the best wooden bed frames for heavy people. The collection comprises, the Ashbourne Oak Bed Frame, the Ashfield and the Ashton. These beds will add a touch of class to any bedroom and are available on a FREE 2-5 day delivery service. Both double and king size reinforced beds have been tested to hold up to 300kg, 47 stone including the mattress.
Reinforced Metal Bed Frames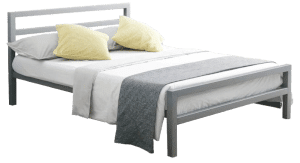 We have a range of strong metal bed frames, that are heavy duty, stylish and inexpensive. Every size has been tested to hold 300kg, 47 stone, which includes the weight of the mattress.
We have 8 super strong bed frames, the Atlanta, Bristol, Cambridge, Contract, Cuba, Eaton, Platform and Sussex. They are available in most sizes and a good range of colours. We also have a great guest solution in the Skid folding bed. This compact folding bed has also passed the 300kg test. These are also available on a FREE 2-5 day delivery service.
Extra Reinforced bed frames
For those that require something a bit more substantial, we have a wrought iron collection. These extra strong beds have been tested to hold 412kgs, 65 stone for two people sharing or 254kg, 40 stone for one person. These figures include the weight of the mattress. The 10 sturdy beds in this range are finished in black or ivory as standard. However our strongest bed frame can be finished in a colour to match your bedroom décor. Imagine a strong bed that is both functional and fashionable. All you need to do is provide us with the correct RAL code. This is a four digit colour code that is internationally recognised and easily found on the internet. The Eleanor bed frame (pictured right) is a good example of a contemporary bed frame in this collection. They are all made to order so delivery is 7-14 days.
There are other beds for overweight people available and these include a tradition divan and mattress.
Reinforced Divan bases
If you prefer a traditional bed, we have a great value reinforced divan base that is certified to take up to 75 stone / 450kgs. We also have a solid divan base. This is also a reinforced bed that will hold up to 300kg, 47 stone. Relyon divan bases can also be reinforced. Using hardwood and wider top rails they are suitable for bigger people, but not as strong beds as our reinforced divan bas or soliod divan base. Alternatively a Hypnos divan base might be what's needed. They offer a service to reinforce their bases. The price is £200 more than the standard. This price is correct at the time of posting this blog but may change. All weight guides include the mattress.
Mattresses for heavy people
If you're looking for a heavy duty mattress, we have a couple of great options that are exclusive to Big Brand Beds. All are suitable for use by an individual weighing up to 25 stone / 160kg and have a 40 stone / 2557kg limit for 2 people sharing.
They are a collection of extra firm mattresses that are guaranteed for 1 year. Using heavy gauge wire and reinforced sides, these are a really good mattress for heavy people. For more information and suggestions for mattresses for heavy people read our informative article.
We also stock Dunlopillo mattresses which are our most resilient range of mattresses as they are a 100% pure latex mattress. However they are not recommended for the above weights.
Before you leave, if you found this article helpful would you mind sharing to your social media profiles. Thank you
Updated 6.8.2021