John Atkinson Blankets & Throws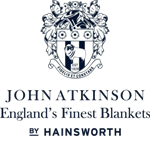 Winter is all about long nights, snuggled up in a cosy house with a John Atkinson blanket while our British weather wages war outside.
And one of the most important rooms in our home to keep warm are our bedrooms, as temperature is key when it comes to a good night's sleep.
Our bodies can be pretty complicated pieces of machinery when it comes to sleep. Not only do we need our mattresses and pillows to give our body enough support during the night so it can repair and prepare ourselves for the next day, we also need our rooms to be at optimal temperature for this to happen too.
This means that if your bedroom is too warm or too cold, then you're more likely to wake during the night, interrupting important sleep. Unfortunately, though, this isn't as simple as a one temperature fits all approach to sleeping. Some of us run warmer, so we won't need to warm our rooms up as much in winter and others run cold, meaning we will need more warmth to reach that optimal temperature for sleeping.
For couples finding that right temperature can be especially tricky. If you both run cold, then you can simply put on your higher tog (13.5) duvet and both be happy, but what happens when one or both of you run warm? Perhaps a winter duvet isn't the best option! What about a woollen blanket instead?
Many of us forget about blankets when it comes to winter warmth. A woollen blanket is an incredibly versatile addition to a bedroom, especially for couples who like different degrees of warmth. If you're too warm a lightweight blanket can make for a far better sleep, or, on the other end, if you're cold you can add a blanket on top of your duvet too. A cellular wool blanket would make the idea partner for a duvet as they are not too heavy and allow air to freely flow. A blanket or two can also be perfect for couples who often fight over the duvet. Get yourself two blankets and you'll never care about that pesky duvet again.
But, you shouldn't just settle for any old blanket you see, for the best comfort and cosiness this winter, you want a woollen blanket that is fit for royalty.
But how can you know which are the best in the world when there are so many around? Well, who's going to have superb taste in quality blankets? The Queen of course! And who supplies HM Queen Elizabeth II with her royal blankets? None other than John Atkinson, the finest blanket makers in England and one of the leading manufacturers in the UK.
So what makes John Atkinson blankets so popular – especially with such high-end customers?
Well, for starters, they've been making them since 1828 so they really know what they're doing. John Atkinson combines traditional methods with modern techniques to make incredibly high quality luxury blankets.
John Atkinson have been creating the best in luxurious blankets for over 200 years, and even boast themselves as the creators of England's finest blankets. This is backed up by the fact that Atkinson blankets hold a Royal Warrant, meaning they are special enough for the Queen to snuggle up to during those cold winter months.
The traditional blanket is made using high quality wool which is densely woven to create a wonderfully cosy finish that is super soft to touch. These are also finished off using satin edging to create an even more luxurious finished product. For those that like a more traditional blanket, whip stitching is still and option.
Made from the finest quality wools sourced from around the globe, others includes cashmere, pure new wool and merino blankets, that are then woven into beautiful blankets in the UK using the widest looms in the country.
A John Atkinson blanket can also be thought of as an investment, as while other blankets will only last a year or two at the most, each of these blankets is made to last. In fact, the company suggests that you keep and pass your blanket on to your future generations.
But don't let the dense structure of them trick you into thinking they're bulky and heavy. The John Atkinson blankets are actually very lightweight due to the fact that they are made from 100% wool. This means that during those chilly winter months you'll be able to curl up feeling brilliantly cosy. You can even add it to your bed to add an extra layer of warmth during frosty nights. But this lightweight quality, which makes them breathable, also means that it's perfect on those hot summer nights too. Simply ditch the duvet and use your woollen blanket instead! It will be like sleeping with pure luxury.
John Atkinson blankets are available in a number of styles and sizes. You can even choose what kind of wool you want. Whether it be the Merino, Atkincel cellular woollen blankets, which are available in more traditional colours like powder pink or champagne or the more modern Harlequin blankets that are whip stitched and available in brighter colours. For even more luxury there's the John Atkinson Siesta Merino Wool Blanket which has super soft wool – perfect for that afternoon siesta!
John Atkinson has a blanket soulmate for everyone. So, if you're looking for something to treat yourself with to get you through the long winter months, a John Atkinson blanket should be high on that wish list.