How to Choose Your Perfect Wardrobe
Unfortunately life isn't like "The Lion, The Witch and the Wardrobe". You aren't going to open the door to find a vast Narnia in which to store your belongings. But that doesn't mean there isn't a perfect wardrobe out there for you. You just need to know where to look!
Now the first thing to consider when choosing your wardrobe is to decide exactly what you're looking for. After-all, your wardrobe is one of your households most used items, so it would be daft to just choose any old box. Choosing one is a lot like choosing a bed – you have to come to a happy medium between both style and comfort in order to get the best for your needs.
So where to start? Well a lot of your choices for a wardrobe will depend on two main things. Firstly the size of your bedroom and secondly whether you want a fitted or free-standing wardrobe. Now fitted wardrobes come in and out of style often, their main appeal is that you can get a wardrobe fitted into any old nook or cranny of a bedroom. However fitted wardrobes can be a large expense and if you want to move house within a few years you're not likely going to be able to take them with you.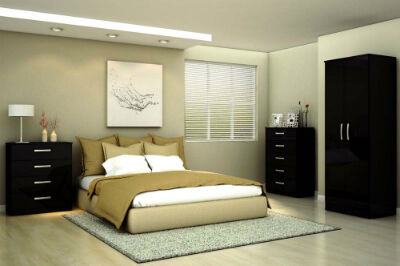 This is why a free-standing robe can make much more sense both financially and for peace of mind. You can buy a gorgeous wardrobe and take it with you if you move house. Now you're just left with choosing one to suit your bedroom size, which is simpler than it seems. You should never compromise on the size – where else are you going to put all your clothes? Instead, if you have a small room, rather than compromise on space go for a simple trick of the eye. You see, a wardrobe with a mirror door will make a bedroom much larger than it seems.
Birlea Bedroom Furniture
Our Birlea range of bedroom furniture comes with wardrobes in various styles and colours. This range has a wonderful mix of wooden frames, with at least one mirrored door. In particular the Birlea Lynx range comes in ultra-modern black that will add a gorgeous dose of gothic glamour to your bedroom. It even comes with matching chest of drawers, beside drawers and dressing table.
Julian Bowen Bedroom Furniture
If mirrors aren't for you, our Julian Bowen bedroom collection offers traditional, luxurious bedroom furniture. In particular, the Marlborough oak three door wardrobe is a match made in heaven. Spacious enough for all your clothes, this high-quality collection of furniture is a wonderful addition to any bedroom. There's even a 7 drawer tall chest of drawers, perfect for make-up and socks!
Whatever your style of choice, the main thing you need to remember when deciding on a wardrobe is not to compromise on size. You will regret it when you're trying to fit in all your clothes. And, of course, remember that your husband only gets one drawer. It's the first rule of marriage!