Fake Britain – Furniture Inferno
Big Brand Beds suppliers are quick to respond to allegations made in Matt Allwright's special investigation into illegal and potentially lethal sofas and mattresses being sold by some of the UK's best-known retailers. We have received assurances from our suppliers that their mattresses are all compliant.
Birlea
Following the transmission of the above investigative programme carried out by the BBC, please rest assured that all Birlea furniture items containing any fabrics or foams have all of the required testing certifications and meet all of the UK's standards relating to fire safety regulations.
We are also a member of the FIRA organisation and are committed to providing furniture that meets all UK requirements for safety
Healthbeds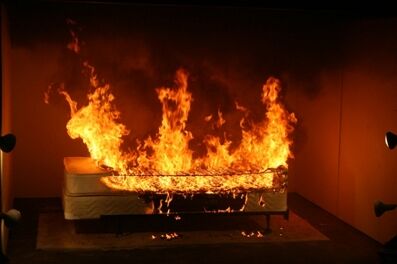 Following the BBC 1 programme Fake Britain screened Monday night we have been contacted directly by consumers concerned over the issues raised on the programme and concerned about how they can identify UK compliant products. I have attached our NBF certificate of compliance, so that should this issue be raised in store you can show with confidence that Healthbeds is fully audited and has passed on all criteria.
If you missed the programme its worth catching up on via BBC Iplayer, prior to the NBF media campaign which begins in a few weeks to heighten consumers awareness of non compliant mattresses and the danger they pose.
Relyon, Myers, Slumberland & Staples
Following on from the BBC's programme "Fake Britain" first shown on Monday 13th January 2014 focussing on non FR compliant sofas and mattresses being sold throughout the UK, we would like to take this opportunity to re-enforce the following points:

Steinhoff UK Beds Ltd (Relyon, Dunlopillo, Myers, Slumberland & Staples) takes the quality and compliance of its products very seriously. We operate an independent laboratory which is responsible for the systematic testing of all raw materials used in bed production. All materials used in our products are constantly monitored by the strictest quality control systems and verified to meet the current The Furniture & Furnishings (Fire) (Safety) Regulations 1988.

Steinhoff UK Beds Ltd is a member of The National Bed Federation, a recognised trade association representing UK manufacturers of beds and their suppliers. The Federation has recently introduced a Code of Practise and Mark of Approval. This code requires all members to be independently audited against a strict set of criteria to certify they have robust procedures in place for complying with regulations covering flammability, cleanliness of fillings and trade descriptions. Steinhoff UK Beds Ltd have recently passed this audit and are now an approved member of the NBF.