Die Zudecke Summer Weight Duvets

What a treat this morning. After what seems to be weeks of heavy rain and snow, the sun popped out. Perfect for half term, the kids can play in the garden instead of destroying the house! It was also when I got to thinking about Die Zudecke summer duvets.
It was whilst walking to the office that I felt the full force of the sunshine. The extreme warmth really does make you feel better and it got me to thinking about our range of summer weight duvets.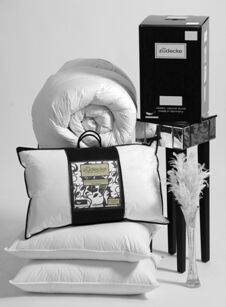 We keep a limited range of Fogarty synthetic summer weight duvets in stock throughout the year, but in honesty, sales are very slow. However, when the sun does come out, the sales rocket.
Although we stock natural duvets from Nimbus, Night Owl and Surrey Down, it's the Die Zudecke range that comes into its own.
We know that the Canadian White Snow Goose Down and Hungarian White Goose Down winter duvets that Die Zudecke make are amongst the best that money can buy, so it naturally goes that their summer quilts must be great. Well they are.
The Die Zudecke Canadian White Snow Goose Down duvet is available in a 3 tog, 6 tog or a slightly warmer 9 tog, all of which are perfect for a balmy summers night.
The Hungarian White Goose Down is available in a 3, 4.5, 6, 9 and 10.5 tog. There really is a natural summer duvet for every taste.
Both qualities come in 5 sizes, single, double, king size, super king size and emperor and can be delivered to you within 48 hours. You might have to wait a little longer for the emperor size.
View our range of first class Die Zudecke Summer Weight Duvets online today.