Die Zudecke Natural Duvets. The Perfect Gift for Mothers Day

Happy Mothers Day. Sunday 10th March is Mothers day, so make sure you make your Mother happy. Treat her to a lovely new Die Zudecke Canadian White Snow Goose Down duvet along with her cup of tea in bed. You will be the most popular person in the house for a long time.
And don't worry too much if you spill a bit, the duvet cover is certain to be washable or certainly cleanable. If by chance there was a major spillage all our Die Zudecke duvets can be cleaned.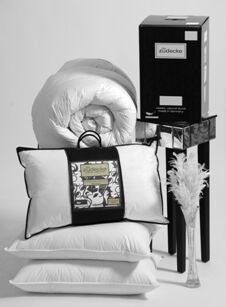 Local soiling may be cleaned with a damp sponge, using hand-hot water and mild detergent. Lightly rinse the affected area and dry by airing. For more serious soiling take it to a professional cleaner who specialises in continental quilts.
Choose from the Canadian Snow Goose down, Hungarian Goose down or the Hungarian Goose Feather and Down duvet. The are all manufactured to the highest standards.
Mum will love you forever if you treat her to one of these fine German manufactured goose down duvets or pillows. They are so snuggly and warm that she will never want to get out of bed in morning.
They are available from winter warmth (13.5 tog) to light summer weight (3.0 tog) and across 5 standard sizes.
The beauty of these duvets is that they are guaranteed for 2 years, so every Mothers Day for years to come, mum will have the benefit of this great present.
Check out our range of Die Zudecke Canadian White Snow Goose Down duvets online today and provided we have your order by Tuesday 5th March we can guarantee delivery by Friday 8th March.