Die Zudecke Natural Duvets - Die Zudecke Goose Down Duvets
Wow, its been alot colder this past week, but that's good news for us retailers of Die Zudecke natural duvets.
My Grandfather and Father always used to say it was great weather for blankets when it was getting cold. How that has changed. Now the vast majority of sales for warm bedding are duvets. So it's now great weather for Die Zudecke natural quilts, which we can deliver to you within 48 hours.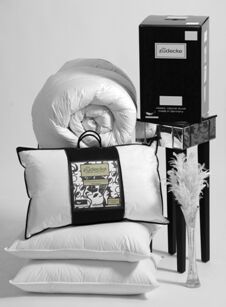 Even in Sussex it was minus 4 degrees the other morning, so climbing out of a bed with a lovely Die Zudecke Canadian White Snow Goose Down duvet was pretty tough.
The beauty of a natural quilt, well a Canadian White Snow Goose Down duvet is it is so light and snugly and keeps you extremely warm, but without overheating. If you like the tucked up feeling, a light fluffy Canadian White Snow Goose Down duvet is probably not for you. You would probably prefer the weight of goose feather and down or duck feather and down, which are available from Big Brand Beds. Check out the Surrey Down Home collection of natural quilts. You'll find lovely warm natural duvets in 10.5 tog, 12 tog and 13.5tog which will be heavier than a pure down duvet. We even sell light weight natural duvets at this time of year, not that we are recommending them at the moment, unless you are taking them to warmer climates!
Follow the links to view our range of Die Zudecke natural duvets, which are available in 5 sizes, single, double, king size, super king size and emporer and buy yourself a lovely warm quilt today.