Die Zudecke - My Daughters Quilt
I asked my daughter to describe her Die Zudecke Canadian White Snow Goose Down quilt.
She came up with the following words. Soft, comfy, snuggly, feathery, toasty, hot, silky, squashy, fluffy, snug, safe, comfortable, warm and lush quilt. It is interesting to have a childs perspective on an ordinary household bedding item.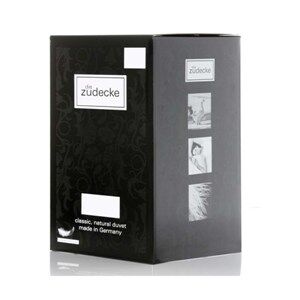 Her Die Zudecke Canadian White Snow Goose Down duvet is somewhere she can hide. It is also a safety haven. It gives her great comfort, she can play with her duvet and build camps. Her brother sometimes puts her duvet into his base drum to dampen the sound, which she gets very unhappy about.
As adults we sometimes miss the point and it has taken my daughter to make me realise that her duvet is so much more than something she sleeps under.
It is therefore a good job that most continental quilts are washable, although commercial cleaning is recommended for large sizes. It is also vital that feather and down filled quilts are thoroughly dried. Airing on a washing line does not always dry the quilt completely so we would advise a commercial tumble drier is used. That said, you should always follow the washing and care instruction on the label.