Die Zudecke Hungarian Goose Down Duvet - Product of the Week

Die Zudecke make an exceptional range of white goose down duvets and their Hungarian White Goose Down is no exception coming with the same 10 year guarantee that its big brother, the Canadian white snow goose down duvet comes with.
Before we tell you about how wonderful these quilts are, let's tell you about the great service. This goose down quilt can be delivered to you within 48 hours of ordering and we believe we have the best prices on the web.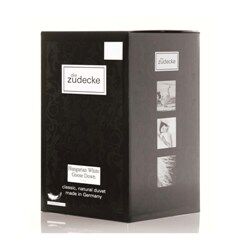 The Die Zudecke Hungarian white goose down duvet is filled with 90% pure white Hungarian goose down and 10% soft goose feathers. Die Zudecke quilts are tested to the highest standards and are honest about their fillings. Most people wouldn't notice 10% goose feather mixed in with 90% white Hungarian goose down.
The quilt is covered in a 280 thread count cotton cambric and constructed in a cassette formation. This stops the filling moving and leaving the sleeper with cold spots. It is a truly luxury quilt.
The Die Zudecke Hungarian white goose down duvet is offered in a range of tog ratings, from light weight (summer) 3.0 tog duvet up to a winter warm duvet, a 13.5 tog. They are also available in 5 sizes, single goose down duvet, double goose down duvet, king size goose down duvet, super king size goose down duvet, and an emperor goose down duvet.
With prices starting at £79, a Die Zudecke Hungarian white goose down duvet is probably more affordable than you thought.
Prices quoted are correct as at the time of posting this blog, but are subject to change.