Die Zudecke Hungarian Goose Feather & Down Duvets

Die Zudecke have just launched a brand new range of high quality Hungarian Goose Feather & Down Duvets to compliment their existing luxury ranges of goose down filled products.
The new Die Zudecke Hungarian Goose Feather & Down Duvets are the perfect addition to the range allowing people that want the highest Die Zudecke quality the opportunity to buy into a feather and down mix.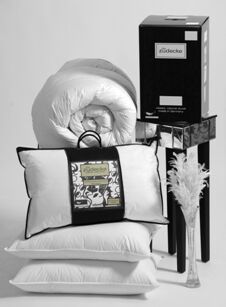 This duvet will definitely fill a niche in the market that exists for customers who would prefer a more luxurious Hungarian Feather & Down filled product over a standard feather and down filled product.
Like its big brother, the Canadian White Snow Goose down collection, this is manufactured entirely in Germany to the same high standards and comes with the Die Zudecke 10 year guarantee.
The initial comments on the duvet have been excellent with the observation that this filing felt lighter and softer than the standard goose feather and down filings in our other collections. Well, we would expect that as this is a luxury product.
Available in 4.5, 6.0, 9.0, 10.5 and 13.5 tog, there is a duvet suitable for every climate and they come in the 4 standard sizes, single (54" x 78"), double (78" x 78"), king size (90" x 86") and super king size (102" x 86").
You might be surprised that a single 4.5 tog summer weight duvet is only £37 and a single 13.5 tog is £48. There is also a generously filled pillow in the range which is just £20.
Browse our new Die Zudecke Hungarian Goose Feather & Down duvets and pillows online today.
Please note that prices quoted in this blog are correct at the time of writing, but are subject to change without notice.